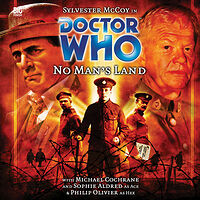 | | | |
| --- | --- | --- |
| | | |
| | Reviews for No Man's Land | |
| | | |
There are 4 reviews so far. To add a review of your own for this item, visit the voting page.
I waited and waited for the monsters, listened hard to find out who the real bad guy was, only to find out that man is the bad guy.

What a great plot after all in real life we are the only monsters.
By:
Doug, Pocono Summit, PA, USA
Date:
Sunday 1 July 2007
Rating:
5
British soldiers in World War I are being turned into unstable psychopaths in the Hate Room. That single sentence is pretty much all it takes to sum up No Man's Land. The story is pretty dry stuff, but then, I've never been much of a fan of historical war stories. There isn't much that's particularly offensive production-wise, except for the out of place electro/drum & bass incidental "music" that pops up now and then, but there isn't much substance here either. And though it's mean to be comical and flirty, I find the banter between Ace and Hex in these stories to be mostly a bit grating and irritating. But overall, No Man's Land is a solid, if mostly uninteresting Seventh Doctor audio.
By:
Matthew David Rabjohns, Bridgend, United Kingdom
Date:
Saturday 22 September 2007
Rating:
10
Doctor Who is best known for the monsters of course. Doctor who is always remembered for the monsters. But to find a story with just normal people as the monsters, which is as true as you can get really isnt it,is hard to find these days. No Mans Land is a fantastic and memorable story and one of my personal favourites of all the range. The thought behind every scene is great and imaginative. This is not just a run of the mill war story with all the usual bombs and guns and blood. This instead is a very gripping and at times shocking story that really makes you think. I wish more of the big finish range were like this outstanding entry. Sylvester Mccoy is definitely at his best squaring off to the generals and evil in this story. a neat little twist at the end as well with the forge mentioned. Great little ending that really makes you think....
By:
David Layton, Los Angeles, United States
Date:
Friday 6 June 2008
Rating:
7
"No Man's Land" is decent enough Doctor Who. The Doctor and company land in secret British hospital in France in 1917. Something strange is going on. Investigations follow. There is plenty of chance for people to talk about life and death and war. There are some interesting conversations between Ace and Captain Dudgeon. That said, there are some major problems in the production. One is the stripped-down techno style soundtrack music that is totally out of sync with the dramatic situation and often sounds so much like a sound effect that one thinks, "ah, here is the monster at last." Another is that much of the story is blindingly obvious. The bad guys really are bad guys, and there is no attempt to hide it. And I had the Forge pegged for this one from about 10 minutes in.