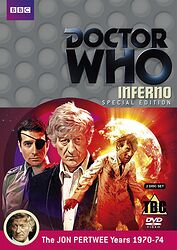 There are 6 reviews so far. To add a review of your own for this item, visit the voting page.
By:
E.B., Australia
Date:
Sunday 9 July 2006
Rating:
10
I must say that this is an exeptional story. I think that this is the best Doctor Who story ever! (Though I watched it years ago and I've yet to see the 7th Doctor's encounter with the daleks. I expect it to be good.)
By:
Matthew B, Cardiff, Wales
Date:
Monday 2 October 2006
Rating:
10
Easily the superior story of Season Seven, Inferno benefits from being told over seven episodes – the usual padding and drag just isn't present here, and the plot device of a parallel Earth warrants a couple of extra episodes, even though the same story is essentially being told twice over. There are so many good things – Pertwee is excellent (as is usual in this season), indeed all the cast are top notch, Olaf Pooley, Nicholas Courtney and Derek Newark in particular. John Levene gives a small role some real punch, too. The effects are fine, Camfield is as wondrous as ever, and the dialogue is a joy to listen to. The kind of powerful story that would suddenly become very rare under Letts and Pertwee.
By:
Nathan Lloyd, Wolverhampton, West Midlands, England
Date:
Monday 16 October 2006
Rating:
10
This mega serial is fantastic for two reasons:
1. The story is set over seven episodes; so the story isn't rushed.
2. The story is believable. Humans drilling to the Earth's core is something that humans actually did before this story was written. This is easily one of my favourite Doctor Who stories. This is the first serial in which Jon Pertwee really shines in and is a great Doctor. The extras are excellent as well.
By:
Huw Davies, Taunton, United Kingdom
Date:
Saturday 17 May 2008
Rating:
9
Stunning performances by the whole class, together with a brilliant script, make this one of Doctor Who's all-time greats. It is also very inventive in the way that there are no aliens: merely primordial creatures created by the natural world. Very well done.
| | | |
| --- | --- | --- |
| | | |
| | Can be summed up in one word: | |
| | | |
By:
Matthew David Rabjohns, Bridgend, United Kingdom
Date:
Friday 1 April 2011
Rating:
10
Incredible!
| | | |
| --- | --- | --- |
| | | |
| | Explosive Special Edition | |
| | | |
By:
Trevor Smith, Nottingham, United Kingdom
Date:
Wednesday 29 May 2013
Rating:
10
The magnificent climax to my favourite season gets the special edition.
In case you haven't seen this story ( why not ? ) it's on of Who's greatest hits. A 7 part thriller that is action packed and never flags. One of the most adult story's Who has ever done.
The picture restoration is a huge leap up from the original release. The RT have done an amazing job and the picture is really sharp. If your familiar with the original DVD or VHS release you will be amazed at what's been done.
Alongside the extras from the original DVD there are 2 new ones & very good they are.
Hadoke vs Havoc is an entertaining documentary in which comedian Toby Hadoke reunites the Havoc stunt team. Doctor Forever ! Looks at attempts to bring back Dr Who before 2005 & how it made its triumphant return.
An absolutely essential purchase. 10/10