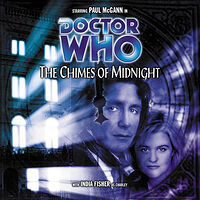 | | | |
| --- | --- | --- |
| | | |
| | Reviews for The Chimes of Midnight | |
| | | |
There are 6 reviews so far. To add a review of your own for this item, visit the voting page.
| | | |
| --- | --- | --- |
| | | |
| | A 1st rate story for a 1st rate Doctor | |
| | | |
By:
William Cox, Winfield, W. Virginia, USA
Date:
Tuesday 4 March 2003
Rating:
10
Moody, dark and atmospheric, "The Chimes of Midnight" is an excellent piece of drama. Robert Shearman's script easily outshines his earlier, but still impressive, work "The Holy Terror". Paul McGann and India Fisher have wonderful chemistry together, and this story proves it again and again. We feel the Doctor's love and compassion for his companion and her faith and trust in him.

This story also has some of the most effective cliffhangers of the entire series (tv or otherwise), and works on many levels, so multiple listenings are required. Truly first rate.
By:
Paul DeLong, Edison, New Jersey, USA
Date:
Sunday 2 February 2003
Rating:
6
This felt a LOT like "Anachrophobia". I had to go back and check to see if it was the same author. It also felt a little bit like "Ghost Light".

All-in-all, I enjoyed the story, but it got overly sentimental and self-serving. Bordering on preachy. The stories seem to be focusing way too much on Charley and her past. To me, she's just a watered-down and less threatening version of Ace.

And what's with the "my poppet" thing. I was gettin really sick of hearing that expression. Enough already. If someone called me a puppet, I'd want to smack them. No, my limbs are not tethered to strings from an indeterminate location above me, so stop caling me that. In "Mrs. Doubtfire", Robin Williams' character used the word "moppet" all the time too. Is it an English thing?

| | | |
| --- | --- | --- |
| | | |
| | Rob Shearman Does It Again! | |
| | | |
By:
Claire Chaplin, Gillingham, Kent, England
Date:
Monday 13 September 2004
Rating:
10
After Robot Shearman's brilliant Holy Terror I decided to try Chimes Of Midnight as I liked the prievew in DWM. I was not dissapointed. The atmosphere in episode 1 has got to be the best starter to any Doctor Who story. This audio adventure is, in my opinion, the best thing I have ever listened to. Lets hope the new TV series can reach the same standard.
By:
Matthew David Rabjohns, Bridgend, United Kingdom
Date:
Saturday 5 April 2008
Rating:
10
I was scared by this story.

Rob Shearman builds on The Holy Terror.

Paul Mcgann and India Fisher really are gelling so well now.

This is as scary as hell i can tell you.

The first episode really is something to be bargained with.

The characters are all so memorable and well played by all involved.

This is the heights the new series should start to reach soon...

I hate the death scenes, if this was viual it would be too much i think.

the house having a voice is creepsville.

Spooky is an understatement for this story.


| | | |
| --- | --- | --- |
| | | |
| | Still the Best Big Finish CD Out There | |
| | | |
By:
Paul Williams, New Brighton, United States
Date:
Monday 9 June 2008
Rating:
10
This audio adventure came out several years ago and although I've listened to dozens of other Big Finish audio adventures, this adventure continues to amaze me. Very well crafted. This audio only gets better with age.
By:
David Layton, Los Angeles, United States
Date:
Thursday 3 October 2019
Rating:
7
Robert Shearman delivers another of his closed environment, warped reality tales. The Doctor and Charlie arrive at a mansion, Christmas Eve, 1906, in which the same scullery maid gets repeatedly murdered. Everyone acts weirdly, and we keep looping through the same two hours with variations. It's definitely spooky and odd. This one is not as quite as compelling and disturbing as "The Holy Terror." The explanation also does not make as much sense. It is still a compelling listen.