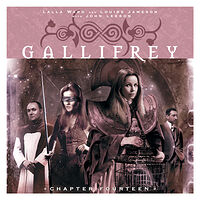 | | | |
| --- | --- | --- |
| | | |
| | Reviews for Gallifrey: Panacea | |
| | | |
There is 1 review so far. To add a review of your own for this item, visit the voting page.
By:
Doug, Pocono Summit, PA, USA
Date:
Monday 5 November 2007
Rating:
6
It seems that time has run out for the Gallifrey series. This final installment of the third series makes a sudden attempt to tie up a number of loose ends, bringing together a few elements that we've seen before and lurching Gallifrey into a very strange state of being.

After a brief visit to Romana's Lungbarrow-like family house of Heartshaven, the Free Time virus explodes back onto the scene, and Gallifrey is suddenly and preposterously becoming overrun by "zombified" Time Lords. (No, that's not a joke.) It turns out that both the Free Time infection and its cure (the titular "panacea") were a brilliant plot to take down Time Lord society and sink Gallifrey, so as to benefit other races in the galaxy. And this all involves experimentation with and infestations of pig rats. Oh dear. But somehow, it actually does all fit together well enough, in a very odd sort of way. Seemingly on the brink of economic collapse, Gallifrey is negotiating the sale of Pandora's temporal weaponry. But that's not all that's thrown into the pot. A mystery figure comes back onto the scene (I won't spoil this detail), and a big fact about Darkel that comes out of nowhere is revealed.

By the end, what we have is a rushed attempt to tie up the series that is a very strange ride, but actually does set Gallifrey up nicely for the coming Time War, as spoken of in the new t.v. series. What is unforgivable, though, is the cliffhanger of all cliffhangers at the end. The story ends before it ends - prepare to be very frustrated by the ending. Will there be a Gallifrey series 4? It seems unlikely, and if not, the end of Panacea is a real cop-out.