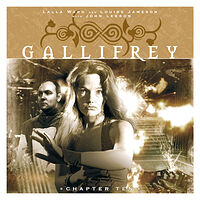 | | | |
| --- | --- | --- |
| | | |
| | Reviews for Gallifrey: Fractures | |
| | | |
There are 2 reviews so far. To add a review of your own for this item, visit the voting page.
| | | |
| --- | --- | --- |
| | | |
| | Plot becoming a little thin | |
| | | |
I can't say that I didn't enjoy this, but there is something a greeping into this plot line I feel I have heard before. It lacks something I can't put my finger on.
| | | |
| --- | --- | --- |
| | | |
| | A Dark, New Era & Time Lord Secrets | |
| | | |
By:
Doug, Pocono Summit, PA, USA
Date:
Tuesday 2 October 2007
Rating:
7
Pandora: ...And now Romana has delivered herself to its very door.

Valyes: Of course - co-existing in the same timeframe as you - her earlier regeneration.

Pandora: Exactly. She's become anomalous thanks to me. I rather think the sentience will want to keep her in the vault, and... play... with her.


A very desperate sort of civil war is now underway on Gallifrey. Though it seemed that President Romana was at the mercy of the physically manifested Pandora at the end of Imperiatrix, she and her supporters are now waging a struggle against Pandora and her forces. (It is unclear why and how Romana has been able to remain free.) Leela has been blinded in an explosion, and has set off without Romana to find medical treatment. Things are not going well, and Romana has been forced to ground all TARDISes. To regain the upper hand, Romana heads to the Anomaly Vaults with the aim of obtaining Winter's TARDIS that has been impounded there, effectively shielded from the disruption that has immobilized all of the other TARDISes. But she does not know what will be there waiting for her, and endures an ordeal that may have changed her forever...

In spite of the slightly confusing start and unclear dialogue in a couple of places, Fractures is an gripping new chapter that progresses the Gallifrey storyline into new territory, and introduces the very strange and interesting Anomaly Vaults...