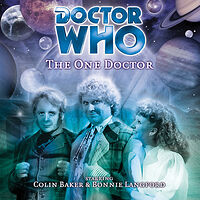 | | | |
| --- | --- | --- |
| | | |
| | Reviews for The One Doctor | |
| | | |
There are 6 reviews so far. To add a review of your own for this item, visit the voting page.
| | | |
| --- | --- | --- |
| | | |
| | Douglas Adams would have been proud | |
| | | |
By:
Clive Wright, Jersey
Date:
Wednesday 7 January 2004
Rating:
10
Its good when someone can laugh at themselves. Its evan better when it is one of the best stories to date.

The One Doctor, could have been written by Mr Adams himself and hitch hikers all over the universe would have noticed right away, the pace, humour and delivery.

Mr Biggins as ever was entertaining.

This is one of the best.
| | | |
| --- | --- | --- |
| | | |
| | My first big finish audio story | |
| | | |
By:
Jamie Collins, essex,england
Date:
Saturday 27 May 2006
Rating:
10
As i said this is my first audio story to listen too and i loved it i thought colin baker was a great doctor and i know now that if he hadnt gotten sacked he would have been a great doctor and bonnie langford as Mel was surprisingly good and she didnt even scream once! but the story and the pace was good and i loved it and gave me a much bigger interst in big finish audio storys.Oh and i also wanted to say that it would have been better if we understood more about what those aliens were who overshadow the entire city of Generios and threaten the doctor about getting the 3 "tributes" but still i really enjoyed and i look forward to listening to more big finish audio storys!
By:
David Layton, Los Angeles, United States
Date:
Wednesday 25 October 2006
Rating:
10
Doctor Who has rarely been any good when played just for laughs. One need only recall The Romans and The Gunfighters to see that the format is not generally conducive to continuous humor. The Once Doctor is the great exception to this rule. Playing on the lore of the program, the story rarely goes for the "in" joke. Similarly, the satire is brilliantly managed. The choice of Doctor and companion is also just right, with Colin Baker as the "pompous" Doctor, only he could play the part of the wounded ego so well. Mel as the most "goody goody" of the companions supplies additional natural fodder for the jokes. And there are so many good jokes in the program, so many memorable lines: Oh here we go on another journey round the English language; everything seems to be "great" on Generios; prepare to be disassembled; I'm sorry Doctor, but you are the feeblest contestant. The One Doctor will probably remain the best production Big Finish has produced.
By:
Matthew David Rabjohns, Bridgend, United Kingdom
Date:
Wednesday 15 October 2008
Rating:
10
The people ive heard say comedy in doctor who is stupid need their heads examined. i am a big fan of some of the funniest moments in tv, which also happen to be on doctor who. and here is a great and witty comedy from Gareth and Clayton that is just so funny. Plenty of gags abound, what with Colin Baker and Chris Biggins ranting at one another and what with all the Jelloids and Jenny calling the doctor sexy...man, this wit is fantastic. a pure comedy with loads of laughs that for long time has faded from our tv screens. I must say this story is the most laugh out loud doctor who ive got. plenty to recommened it then!!!

Colin Baker as per usual seems to relish being the doctor, here giving a knockout performance that he should have been able to deelope further on screen. I hear rumours of a six doctor story soon, they had better be right, or i wont be happy. it will be great to see colin on screen again after so long.

Bonnie Langford again reminds us what a great companion Mel is. Her scenes with Chris make this story the walloping success it is. those two robots are flipping side cracking stuff too man.

And the addition of Matt Lucas is inspired, as the far funnier side of all that is Little Britain. This all adds up to make the one doctor a brilliant comedy with plenty going on seriously too...
Hilarious! Amazing Performances! Biggins!
It's a story that the greats of Holmes, Dicks and Adams would have applauded. It's perfect who right down to the action, you'll love it, the great exploration of classic who with the comedy which goes hand in hand with it. It'll please everyone. Stand Out of the rest of the cast outside the two TARDIS/ STARDIS crews is Matt Lucas as the Jelliod, it was written for him! The Best scene involves some a game of monopoly. Buy It, Colin is great, Bonnie is amazing. If you only listen to one Doctor Who Audio make it this, I'm sure it'll make you want more and more.
It's like a Doctor Who Panto, it's even got Biggins...
By:
Andrew Shaw, Newcastle upon Tyne, United Kingdom
Date:
Saturday 2 October 2010
Rating:
10
I really enjoyed this story it was nice to have a break with a light hearted comedy style story, I didnt know what to expect at first but once into the story I didnt want to turn it off, because I only get a chance to listen in parts, I suppose it gives the feel of episodes. The only thing is I would have liked to know more about the Cylinder and why they were after the Doctor ( hopefully there might be a follow up about this)