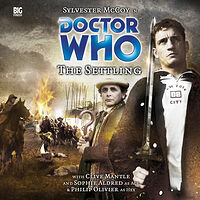 There are 4 reviews so far. To add a review of your own for this item, visit the voting page.
Hex is coming through as a strong addition to the crew and helps develop Ace a little more. A another historical plot but far better than last month's attempt.

Cromwell is believable and it's good that the doctor dosn't know everything and gets caught with his pant's down.


By:
the Traveller, the end of the world
Date:
Monday 24 July 2006
Rating:
8
Another great McCoy audio with Hex developing as a real companion. The historical scenes are laced with a sense of desperation and powerlessness at being able to do nothing, and the TARDIS scenes are nicely written. Roll on the next release...
| | | |
| --- | --- | --- |
| | | |
| | Drab, Unconvincing Historical | |
| | | |
By:
David Layton, Los Angeles, United States
Date:
Wednesday 3 January 2007
Rating:
5
Maybe the Big Finish writers are just running out of ideas. It seems that there have not been any really good ones in a while. The Settling is certainly not one of them. Again, as in Night Thoughts, the companions are just stupid. The Doctor and Hex know there is going to be a slaughter at Drogheda, know that they cannot prevent it, know that they are in terrible danger being anywhere near it. And yet, what do they do? Stick around and get involved in the fight. At least we do not get longish lectures about the "web of time." There are some decent attempts to humanize Oliver Cromwell, as well.
| | | |
| --- | --- | --- |
| | | |
| | This is history with reality... | |
| | | |
By:
Matthew David Rabjohns, Bridgend, United Kingdom
Date:
Thursday 20 March 2008
Rating:
10
This would be very very intense on screen, its dark and haunting enough on disc. This really is a trip back to the full wastefullness and horror of war. And add the Doctor having to deliver a baby then this all combines to make a totally rivetting and surprisingly dark historical. This is an easy hartnell echoer, like a modern day Massacre Of St Bartholomews Eve. And Hex thought he was doing the right thing and ends up making a big mistake. Time travel isnt all about fun and games at all here. There are real consequences. This is not a protracted or boring history lesson at all. It is a well acted, well scripted adventure that brings history to life, with a ring of rawness and emotional intensity that is not usual in Doctor Who. Simon Guerrier is a class writer. Sylvester Mccoy leads a brilliant cast, and Clive Mantel is a great choice of actor for Oliver Cromwell. A strong play that leaves you with a lot to think about...