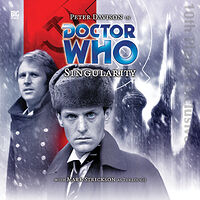 There are 5 reviews so far. To add a review of your own for this item, visit the voting page.
By:
Phil Ince, Standing over our mother with an axe
Date:
Saturday 10 December 2005
Rating:
1
This is a humourless, juvenile embarassment.
By:
David Yates, Reading, Berkshire
Date:
Friday 6 January 2006
Rating:
4
I was really looking forward to hearing this. As I'm a big fan of Space 1889: The Steppes of Thoth, I had high hopes.


Spoilers follow.



Plot wise it's tightly structured, each episode moving the plot on logically to the next. And it was a pleasant surprise not to be able to second-guess the story - a sure sign of a writer who has very obviously worked hard at getting it right. I liked the idea of the villains being human beings. Fighting against our future selves. Very good. It's always nice when the TARDIS is actually used in a story rather then just a device to get the Doctor into the story and out again.

There are a few things that did get on my nerves a wee bit though. I know it must be hard to write for audio and BF have been doing it for a little while now so you would think that the script editor would be able to give the writers a few pointers and to what works and what doesn't. Turlough talks to himself at the beginning of the play and it's quite obvious that the writer is using this by way of describing what's going on. But it's a bit clunky and at one point in a very bad post-modern way he mentions it, as if to excuse the bad dialogue.

Talking of bad dialogue would Turlough really say 'tropical with beaches and pretty girls'? He was in the TARDIS with Janet and Sarah for God knows how many episodes! Duh! Hello! Why suddenly take an interest now? The Doctor and Turlough didn't feel like the Doctor and Turlough I remember. Sorry folks.

Sometimes the dialogue just seemed to get in the way of the action 'We don't have time for another one of your paranoid episodes' just as they are about to jump into a car. Too much dialogue is sometimes worse than not enough. At one point the Doctor says in front of Lana ' It makes me feel 100 years younger' and she completely ignores him! If someone said that to me I'd give them a wide berth! Or at the very least back away slowly. Later Turlough says 'I'm a very unusual kinda guy - on this planet at least' in a cod- Douglas Adams/Ford Prefect type way and the character completely ignores him too! Why? Especially as this very fact becomes a plot point later on. Goodness me!

Talking of cod-Adams dialogue: 'Where's your sense of adventure?' 'In a box in the TARDIS marked 'Sense of Adventure'.

Dear oh dear.

Are lines like this supposed to be a Season 17 homage?

'Silent animal - cease you repellent bleating!'
'Get back! The stench of your psyche is revolting!'
'You loathsome meddler!'
'Get away from me you primitive savage!'


If they are, they've hit the nail on the head. I half expected someone to shout 'Weakling scum!' at one point!

If they're not, they're just bloody awful lines.

And there's more:

'Its like a explosion in a wire factory'
'Its like something out of a Victorian madhouse'
'It's like a mad scientists scrap yard'

It's very, very bad is what it is!

Who talks that way?

It seems like while BF were getting on with the production values (which are excellent) it feels like no one bothered to actually read the script and say 'Any chance of re-writing the dialogue a bit? So the characters sound like real people instead of cliché machines? Ta.'

I expected a lot, lot more from the writer of 'Steppes of Thoth'. As I thoroughly enjoyed that and I'd still recommend it to anyone who likes good, well written science fiction

But this? Nope. A great plot, but bad dialogue.

It's almost like they were written by different people. Maybe - as I mentioned before, it's in the editing?

I don't know.





I think some quality control is needed.

As soon as possible, please
This one give a strong plot which holds you well, not easy to guess what's going to happen next. The sense of emptyness and ending is dealt with well and the futile hope of trying to end what has already happened gives the story its real strength.

I agree that it is does fall down with Turlough's comments at times and the final show down is a little typical put overall its very good.

If you really think Big Finish is that bad i.e. a score of 1 every month why don't you simply give up and try something less boring instead
By:
David Layton, Los Angeles
Date:
Wednesday 16 August 2006
Rating:
6
I see that there is a real split among reviewers about this one. My surmise is that the trouble is in the story, which is neither here nor there. On the one hand, the Somnus Foundation could be a dead ringer for Scientology. On the other, there is the "tragedy" of the human race being left behind for good. The real sticking point for me is that old bad idea that "emotions" are what make us "human." In other words, don't think, just feel, and you will be "human." Give this half a second of thought and you will see how preposterous the whole proposition is. And to have Turlough, of all people, defending what makes one human? Therein lies the trouble. What should be grand satire is played in dead earnest. It would have been much better to have taken a full assault on Scientology, to let the satire take hold. Taken seriously, little in the story works well.
| | | |
| --- | --- | --- |
| | | |
| | Not the best, not the worst.... | |
| | | |
By:
Matthew David Rabjohns, Bridgend, United Kingdom
Date:
Friday 4 April 2008
Rating:
7
I think the main reason Singularity suffers as a story on the whole is Turlough once again being relegated to doing basically nothing at all through the whole story. Mark Strickson deserves far better than just being a bad tempered school boy all the flipping time. Singularity would have been excellent had it not been for the woeful presentation of Turlough. What is usually called a run around for the character is all that i can think of to say for him. But the story is not all bad though by a long chalk...

The setting of Russia is different, and the aliens are rather soulless and and balck hearted and evil. And they are given a good voice too for once! And of course Peter Davison is good, even though for the first two parts of this story even the Doc doesnt seem to do much except walk around places talking and not doing much at all. But their are enough good scenes to prevent this story from being a total wash out. Please though, if you ever have Mark back again Big Finish, then please present with a script with at least something exciting to do. He is still one of the biggest missed opurtunities as a companion...