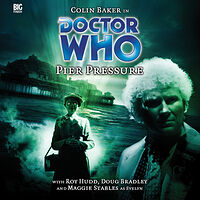 | | | |
| --- | --- | --- |
| | | |
| | Reviews for Pier Pressure | |
| | | |
There are 4 reviews so far. To add a review of your own for this item, visit the voting page.
Slightly over the top with a plot that is thin at best. Generally nothing really happens apart from the usual, beating the enemy with whatever is in reach, a lot of luck and a fall guy close at hand. Should have been a lot better.
By:
the Traveller, the end of the world
Date:
Monday 24 July 2006
Rating:
4
A clichéd badly plotted and incredibly slow audio adventure. Barely anything actually happens until episode 3, and by then I'd pretty much lost interest. If you do listen to this audio, take an episode at a time, as anything more I found my attention wandering.
On the plus side, Colin Baker and Maggie Stables are excellent, and Roy Hudd provides a little entertainment

By:
David Layton, Los Angeles, United States
Date:
Wednesday 25 October 2006
Rating:
3
The previous two reviewers have said much of what I have to say about Pier Pressure. It is just plain dull, taking seemingly forever to get going. Even then, what are we faced with? - a bad showman mentalist and an alien so uninspiring it does not even get a name. And how do we deal with it? Just stick a wire in the right place? No, the whole thing is ill-conceived and unredeemable.
By:
Matthew David Rabjohns, Bridgend, United Kingdom
Date:
Tuesday 18 March 2008
Rating:
10
A dark tale.

A great part played by Doug Bradley, not quite as gross as Pinhead, but still memorable actually in my opinion.

And Maggie Stables and Roy Hudd sound so great together, just as she did in Arrangements For War with Gabriel Woolf, she seems to hit it off with older guys.

Comedy is at the forefront of this story, but like The One Doctor doesnt mean the story is rubbish in the slightest. For a start, theres still some good horror moments interspersed between great character pieces. This would have been another good stage play i think. The characters are cool and this story on the whole is flipping excellent stuff.

Colin Baker doesnt need any more comments either, he's just a great Doctor. All elements put together make this story another success for the big finish team...