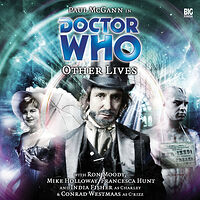 There are 6 reviews so far. To add a review of your own for this item, visit the voting page.
By:
David Yates, Reading, Berkshire
Date:
Monday 6 March 2006
Rating:
7
I had a lovely time listening to this. I was just in the right mood.

It was a very enjoyable run-around that didn't take itself too seriously.

It had a nice a lightness of touch that could so easily have turned into over earnestness, but didn't. Though some of the plotting was a wee bit contrived – mistaken identities, freak shows, I didn't care because it was such good fun and ultimately in the spirit of the piece.

I'd also like to single out the sound design and score. They really were spectacular. Lovely music and effects that really put you right in the middle of the action.

Though some of it just seemed down right silly. For reasons I'm finding it hard to pin down at the moment, I felt that it all seemed to work within the whole light-hearted tone of the play.

It had more 'romp' than 'pomp'. Um, if you know what I mean.

| | | |
| --- | --- | --- |
| | | |
| | Light hearted romp - almost | |
| | | |
This one tried to be something, and generally give the impression of a romp. Mostly enjoyable with some great names for the locals but it lacked something to bring it together with any real meaning.
By:
Doug, Pocono Summit, PA, USA
Date:
Saturday 16 December 2006
Rating:
6
The first review here sums up Other Lives pretty well, except that I didn't find the sound design to be so terrific. Wasn't bad, just nothing outstanding either, though it did work well. The way the story goes, it reminded me of a nearly overlong Eighth Doctor novel. To put it briefly, without any real spoilers, the Doctor, Charley and C'rizz arrive at the Great Exhibition in 1851, get separated, and each quickly proceeds to get rather hopelessly lost there in one manner or another. What they get themselves into seems to simply meander aimlessly, further and further away from their former lives together. The setting and the characters in the story are all rather straight forward, familiar and quaint, and though there are a couple of mysteries, no real evil appears to be at work. This makes for a refreshing change from the rather serious stint the eighth Doctor has had in these Big Finish stories.

Mildly entertaining, unambitious, and reasonably well-written.
By:
David Layton, Los Angeles, United States
Date:
Monday 3 March 2008
Rating:
5
The story is an attempt at something like Charles Dickens writes Doctor Who. We get a Dickensian sort of convoluted plot involving confused identities, class warfare, a rich guy with a heart, and a surprise happy ending. Other Lives allows India Fisher and Conrad Westmass to put on their outrageous accents (they're French don't you know?)which provided me with several of the many unintended moments of mirth from this story. The story moves along in its merry way, but does not involve the listener emotionally. And, of course, we get more psycho C'rizz coming out, further "development" of yet another Gary Russell masterplot. In the end, I would rate this story as mostly harmless.
| | | |
| --- | --- | --- |
| | | |
| | I love this one to pieces.... | |
| | | |
By:
Matthew David Rabjohns, Bridgend, United Kingdom
Date:
Tuesday 26 October 2010
Rating:
10
Other Lives is in the vein of Arrangements for War and Catch 1782. In the fact that it is more character based than action packed. But I have to admit that Gary Hopkins has created here a story that is really nice to listen to. And it is a break from the heavier sci fi tales around it.

The characters here are so well rounded and lovely. This has the feel of a Charles Dickens tale. And all the main three cast get a good slice of action. I love the fact also that this story isnt totally rushed. It just plods on at a nice and warm pace. The plot threads for all three of the TARDIS crew are nothing to do with each other either for the most of the story, which is interesting and different.

Ron Moody too appears here! Probably no wonder its like a Charles Dickens then! Although theres no singing here, thank goodness! You could imagine sitting down in front of the fire with a cup of tea and just falling asleep to this story.

C'rizz's predicament is believable and strong here too. And Paul's main line of story is excellent what with the woman who thinks he's her husband. And Charley is wonderfully played again by India. All of them seem to be glad with this tale, its so easy to follow, and is roundly satisfying. And a nice ending too for once. One would wish for more stories like these please...
By:
Trevor Smith, Nottingham, United Kingdom
Date:
Friday 6 February 2015
Rating:
8
Really enjoyed this. A different 8th Doctor story, no aliens or criminal masterminds, just people who's loves collide. All the TARDIS crew are used well and the support cast are excellent. Reccomended.