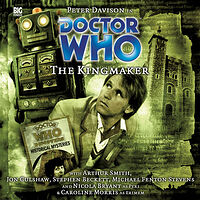 | | | |
| --- | --- | --- |
| | | |
| | Reviews for The Kingmaker | |
| | | |
There are 4 reviews so far. To add a review of your own for this item, visit the voting page.
I just couldn't believe this one. Its alway good to have a fun story every now and then. The best being "The One Doctor". But this just lost it for me, the plot twisted so often it was very douglas adams. Sorry not for me.
By:
David Layton, Los Angeles
Date:
Wednesday 27 September 2006
Rating:
7
I am giving this one high marks for tight plotting. I have complained in the past about loose ends in some of the Big Finish stories, so I must admit that Nev Fountain has splendidly tied up everything. Not a "what about..." left to be said. The demerits come because this story just does not fit the Doctor Who format. When the Big Finish authors try to get funny, they tend to reach for the Douglas Adams. Adams' approach to Doctor Who was problematic at best, and writers should have learned from those 1979 stories that Voltairean satire and Doctor Who just do not work together. Good Doctor Who uses some humor in an otherwise serious context. And while the plot is all neatly wrapped, there are serious anachronisms running throughout. For instance, commemorative tea towels sold at the pub in the 1400s. Tea does not arrive in England until the 1600s, and does not become a regular part of English life until the 1700s. The problem is that the joke undermines the whatever authentic tension is built into the story. Final assessment: This would have been great in some context other than Doctor Who.
By:
Paula, Michigan, USA
Date:
Wednesday 14 February 2007
Rating:
10
A very funny story, one of my favorites.
By:
Matthew David Rabjohns, Bridgend, United Kingdom
Date:
Wednesday 1 June 2011
Rating:
6
Only the slightly over long feel to this tale mars it in any way, shape or form. One just gets the notion that this would have been better if it had been slimmed down just a little. There are other tales which are excellently paced and dont feel overlong, but this story is not one of them Im afraid.

But this is not bad at all though. There are certainly a whole scope of ideas which are well scripted and well thought through, and all come together in a really good way. Although I think I should say we've always known the Doc is no superhero, he just always tries his best, so the whole make him admit he's not perfect thing in this story is a little laboured and usual.

Where the story does work better is in the pairing of Erimem and Peri, the bond here between them had reached its full height. And Erimem's busting of a blokes arm is a wonderfully comic little scene, as is the whole Doctor Who section with that robot on the front cover which sadly make me feel this might be a toymaker story, for it bears such a resemblence to the robot in the Celestial Toymaker, so I was slightly miffed to find out it wasnt.

The whole point that a stupidised Willi Shakespeare should be the whole reason for this story is rather good though, and I genuinely did feel this was going to turn out to be a Master tale, so it was a decent surprise when it wasnt in the end. But this is one tale where the three main actors definitely save it from being protracted and boring. Good on them! Otherwise this story would have been too too long.