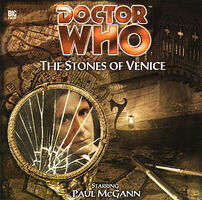 | | | |
| --- | --- | --- |
| | | |
| | Reviews for The Stones of Venice | |
| | | |
There are 5 reviews so far. To add a review of your own for this item, visit the voting page.
| | | |
| --- | --- | --- |
| | | |
| | great music, a little high on melodrama | |
| | | |
By:
Paul DeLong, Edison, New Jersey, USA
Date:
Sunday 2 February 2003
Rating:
7
The music stood out most of all in this story. It absoloutely set a very mournful bittersweet mood. I'd listen to this again just for the music.

The big revelation came as no surprise. And I got a little sick of the melodrama towards the end.

But Magrs' reference to "The Scarlet Empress" was priceless. I'm guessing some other utterances in that scene were also self-referential, but I haven't read some of his other stuff, so I can't be sure.

Though, for technical reasons, I can't see why people would be trapped in Venice. If it's the far future, then I'm sure people have more transportation options than just boats. But Paul Magrs is odd like that. Scarlet Empress was an odd mix of antiquity and futurism, so all bets are off with him.

This felt very Tom Baker to me, mystery build up but the ending was a little weak, missing something original to keep it up beat.

The Doctor and Charley come across well, with Charley containing her overconfidence.

Overall average-good.

By:
David Layton, Los Angeles, United States
Date:
Wednesday 3 January 2007
Rating:
4
I found "Stones Of Venice" to be a muddled mess. Paul Magrs tries to have things both ways: to make it "futuristic" with gondoliers evolved into a new human species, and to make it "Renaissance" with an obsessed Duke, masquerade ball, and mad monks that remind me very much of the Cult of Demnos from "Masque Of Mandragora." The Renaissance stuff just does not work. If this is 2300 or so, then it would not really be surprising that a man can live over 100 years or that paintings might come from other worlds. And why the heck doesn't everybody just take a helicopter or jetcar out Venice rather than rely on boats? Michael Sheard gives a performance that can best be described as weird. It is strangely over-the-top and one-note, so quite different from his quiet performances in the TV series. Everyone else is equally one-note (another knock against the writing), and Charley gets almost all the best lines. This one needed a serious rethink.
By:
Matthew David Rabjohns, Bridgend, United Kingdom
Date:
Sunday 16 March 2008
Rating:
10
This story feels detached and different from any other Paul Mcgann big finish outing. this is a relaxed and easy flowing story which is very nice to listen to. However this doesnt make the stroy plodding or confusing in my opinion at all. And we have a great last doctor who appearance from Michael Sheard, who plays the lead role very well indeed. This really does have the feel of a shakespeare play, Romeo and Juliet comes to my mind. A city cursed by a betrayed alien lady. This story is one i can play whilst settling down at night to go to sleep, and not because itll send me to sleep either, more other it will make me smile before drifting off. Paul Magrs tales are always fresh and imaginative to say the least. And India Fisher impresses again as Charley doesnt she?
| | | |
| --- | --- | --- |
| | | |
| | Interesting Concept, poor execution | |
| | | |
By:
Jared Harr, St. Marys, United States
Date:
Saturday 16 May 2020
Rating:
3
This story has a crazy concept that just screams "Doctor Who." However, the rest of it falls flat. The plot itself is a mess and the dialogue is super clunky (especially in the beginning of part 3). The story just seems to sit there and doesn't bother adding any action into it's convoluted mess of a script. By part three, key ideas in the script stop cold turkey and everything just feels like a train wreck of story concepts that go absolutely nowhere.

If you're looking for a cool story with good pace... Well, you get half of that here.