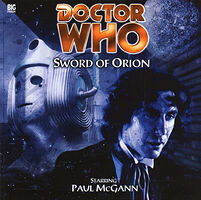 | | | |
| --- | --- | --- |
| | | |
| | Reviews for Sword of Orion | |
| | | |
There are 7 reviews so far. To add a review of your own for this item, visit the voting page.
| | | |
| --- | --- | --- |
| | | |
| | good atmosphere, decent story | |
| | | |
By:
Paul DeLong, Edison, New Jersey, USA
Date:
Friday 13 December 2002
Rating:
8
The thing about this story that stood-out the most was the music. No Cybermen-centric story has had such good music since Earthshock, and it stands out even in-general. It brought a strong suspenseful atmosphere to the story, which has been really difficult to do in an audio-only format.

I've found the stories somewhat lacking in many of the Big Finish episodes I've heard so far. Even though this one wasn't stellar, it was interesting and entertaining enough to keep me listening.

I find Charley's ease-of-adapting a little dubious and hard to swallow. This is only her second episode, yet she takes concepts like androids and "death-rays" in her stride. It would be nice if the authors would give her a little token culture-shock to start out with, just to make her a little more believable.

Another weakness which the Big Finish audios have had is to make up for the lack of a visual element as an aid to telling the story by having the characters do an excess of monologues or talking to themselves to help further the storytelling. I guess it's hard in an audio-only format. But this episode seems to have less of that. Perhaps by this point they've started to get the hang of using other means to get the plot elements across to the audience.

By:
Clive Wright, Jersey
Date:
Saturday 20 December 2003
Rating:
8
I'm surprised it took this long for the cybermen to pop up, but here they are in a typical story line.

Charley a girl from the 1930s seems to deal very well with space, cyberman and just about everything. I would have liked to have her at least come to terms with the future and time travel rather than act as if she was an old hand after just 2 stories.

The plot is typical of many cybermen stories, good atmosphere throughout, not a challanging storyline but still a ripping yarn.
| | | |
| --- | --- | --- |
| | | |
| | One Of The Better McGann Stories | |
| | | |
By:
David Layton, Los Angeles, United States
Date:
Wednesday 3 January 2007
Rating:
8
I agree with the reviewers rather than with the voters on the quality of this story. It is taught, sparse, and well-designed. I also agree that Charley too easily adapts to future tech. Maybe this was a little too much like other Cyberman stories, i.e. The Wheel In Space, for some listeners. I rather enjoyed it, though, becuase it does fit squarely in the Doctor Who style.
By:
Matthew David Rabjohns, Bridgend, United Kingdom
Date:
Sunday 16 March 2008
Rating:
10
The return of the cybermen pon audio. So much mroe frigtening on audio than on screen i feel. Much more in depth stories too.

For the people who quibble about Charlie getting too used to future tech, how much time could have passed between the first two stories eh? Leave it to the imagination. This is such a classy tale.

Yet again Nick Briggs brings us a tale with two things: great plot and a strong female character again. Deeva Jehnsen is quite a cool creation i can tell you. Pity she dies in the end though. Why is it people always see fit to kill great characters for pitys sake?!

And Bruce Montague as Grash is a real good piece of acting too. Nasty and loud mouthish to the extreme. Some quite graphic scenes of death if this had been on screen. A pulverised body, cybermats make a great return in there only audio so far. Come, bring back more of the cybermats soon please!

ANother strong story that lifts the first four Paul McGann tales, after a weak start in Storm Warning. This is great stuff!
By:
Andrew Shaw, Newcastle upon Tyne, United Kingdom
Date:
Monday 9 August 2010
Rating:
7
This story reminded me of the Tom Baker story Revenge of the Cybermen, because of the background musicit made it feel as though it was part of that story after it happened or before, I guesses early on about the new female captain and I thought they should have left them and saved themselves because they said they had waited so long and time didnt matter so what would a bit more time hurt otherwise I enjoyed this Cyberman story + I might of enjoyed it more than I should because Ive been listenig to stories mainly around places on planets and was looking forward to being back on a ship.
By:
Matt Saunders, Buckinghamshire, United Kingdom
Date:
Friday 14 February 2014
Rating:
9
I've always really enjoyed this story and can listen to it again and again. In so many ways, this is a classic McGann story and it has cybermen in it too. What more do you want? It also fits in very well with the later Cyberman stories - the background tunes and the android war. Well worth picking up. And it's Nick Briggs at his best as a writer and voice of the cybermen.
| | | |
| --- | --- | --- |
| | | |
| | Very creative wih great voice acting | |
| | | |
By:
Jared Harr, St. Marys, United States
Date:
Monday 16 October 2017
Rating:
9
This was a very creative twist on the show as it introduced androids in a modern styled fight for rights. With the episode also containing Cybermen at one of their most deadly. The cybermen were written so well in this story that it feels like Kit Pedler wrote it! Plus this story is not without an incredible plot twist. I was stunned by the end!