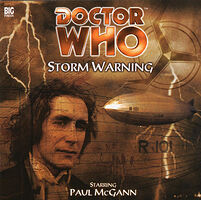 | | | |
| --- | --- | --- |
| | | |
| | Reviews for Storm Warning | |
| | | |
There are 6 reviews so far. To add a review of your own for this item, visit the voting page.
| | | |
| --- | --- | --- |
| | | |
| | A warm welcome to number 8 | |
| | | |
By:
Clive Wright, Jersey
Date:
Saturday 20 December 2003
Rating:
8
Paul McGann although well received in the movie, was sadly never taken up for a new TV Series. This story what have made a good first TV episode.

The story is good with Charley making a cheaky new partner in time. My only real concern is how easy it is to defeat the once most powerful aliens in the universe, still welcome to the 8th Doctor.


By:
George, Culcheth
Date:
Thursday 10 March 2005
Rating:
7
Well it can be said he should have the new TV Series but it was not to be oh well. However but and nevertheless he got this far in the audio ad ventres we should treat like like his TV Series but without the picture
By:
Merlin, England
Date:
Tuesday 11 October 2005
Rating:
8
Once I'd heard of the Paul Mc Gann audio adventures I thought I just had to gte them. This was a good start to a range of fantastic range of audios. And now they're being broadcast on BBC 7.
By:
David Layton, Los Angeles, United States
Date:
Wednesday 3 January 2007
Rating:
7
It is nice that Paul McGann gets his chance to play his Doctor. The story he gets to start with is somewhat humdrum. Also, the Big Finish people have decided to build in a "problem" for the companion, something they really like to do with no good reason for doing so. This problem, that Charley should not be alive, feeds into another Big Finish, or should I say Gary Russell, obsession - story arcs. Just let Doctor Who be Doctor Who, I say, and stop sticking in these excuses for overly emotional dialogue and poor excuses to justify stories by making them "about" the Doctor and/or his companion, rather than having the Doctor stumble his way into a story as of old.
| | | |
| --- | --- | --- |
| | | |
| | Great acting by two people... | |
| | | |
By:
Matthew David Rabjohns, Bridgend, United Kingdom
Date:
Sunday 16 March 2008
Rating:
5
This is one of the few run of the mill stories produced by big finish. This is quite forgettable had it not been for the saving and brilliant performance by the great Paul Mcgann on return to the disc as the eighth doctor. He is a great actor, and an even better Doctor. And the introduction of formidable companion Charlotte Pollard is great too. Pity the rest of the story is so boring and unenguaging, a rare let down for an otherwise classy series from big finish...
By:
Andrew Shaw, Newcastle upon Tyne, United Kingdom
Date:
Friday 16 July 2010
Rating:
7
I was apprehensive at first about the 8th Drs return especially his first story nut I did enjoy it and thought he played the Dr very well I found it hard to get into at first but then I got into it I thought they could have left the Vortisaur bit out and changed that bit and I thought Charley a good character but would she really be bossing about and arguing with special agents and army officers.