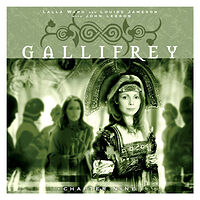 | | | |
| --- | --- | --- |
| | | |
| | Reviews for Gallifrey: Imperiatrix | |
| | | |
There are 2 reviews so far. To add a review of your own for this item, visit the voting page.
By:
Nicholas Murphie, Newtown, Australia
Date:
Monday 5 December 2005
Rating:
10
To say Imperiatrix is the best of the second Gallifrey series may be true but it's also unfair on the other writers. The quality of the final chapter rests greatly on the fantastic work of the previous CDs of the season. All of them have been building to something big and this is the pay off. So much revelation, death and destruction earned a longer release than previous chapters and it's needed. The final chapter sealed this series as the best of Big Finish's range that i've heard so far and season 3 should be well worth the wait.
By:
Doug, Pocono Summit, PA, USA
Date:
Thursday 15 March 2007
Rating:
8
Spoilers ahead.

I realize that I'm comparing Imperiatrix to the other four episodes that preceded it, but my opinion on the bulk of this episode is that somehow, Imperiatrix is just a little light on substance. Maybe it's just that the events of this episode mostly deal with terrorist bombings and sneaky political wrangling, and it's all just a bit too mundane and too close to 'real life' for me.

Romana seems to be obsessed with changing Gallifrey in a way that the Doctor probably would've liked to - to open the world and the Academy to close contact with other races and to share the secrets of time with others who are capable of responsibly working with them. But whereas the Doctor took the course of just leaving, perhaps seeing the task to be too great, Romana is insisting on instituing drastic changes through the power of her presidential position. Much of Time Lord society appears to be in stark disagreement with her policies, and does not want Gallifrey to 'progress' in this way, yet she continues to push her agenda forward. And her obsession is driving everyone involved into power plays and violence.

Of course, all of this rather unpleasant and mundane action comes to a dramatic climax in the last 28 minutes (which are on the poorly marked *second* CD), where we are finally shown a clear view of much of what has been mysteriously orchestrated throughout this series. Romana is forced to enact a dictatorial takeover of Gallifrey's government (thus the title of this episode, "Imperiatrix"), the extent of Inquisitor Darkel's ambition is exposed, and the real player behind the "Free Time" movement steps forward. After Romana dramatically turns the tables on Darkel, the resulting tumult brought about by these extreme power plays has caused a situation to arise in which Romana is pressured into making a desperate move in order to neutralize a grave and imminent threat. Pandora takes full advantage of the situation to manifest in a form that will now topple Gallifrey over into civil war.

The character of CIA Coordinator Narvin really shines in this episode, as his strength, integrity and loyalty to the well-being of Gallifrey comes to the fore, and he is very well-acted by Sean Carlsen. Lalla Ward, on the other hand, is still struggling with the emotionality that has been thrown into Romana's character. Mary Tamm is again fantastic here. I would have given this episode a 9 if not for the fact that the story seems to muddle around and take too much time to reach a sudden jump to its climactic end.

This second series has had regeneration and identity as central running themes; the question of true identity is being explored here. Who is the real Romana? Who is the real Andred? When a Time Lord regenerates, does the original personality really remain? These themes of fighting with yourself, the search for true identity, and this Time Lord quest for the identification of the soul have indeed made for a very interesting subtext.