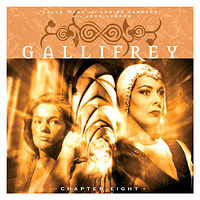 | | | |
| --- | --- | --- |
| | | |
| | Reviews for Gallifrey: Insurgency | |
| | | |
There are 2 reviews so far. To add a review of your own for this item, visit the voting page.
By:
Nicholas Murphie, Newtown, Australia
Date:
Monday 5 December 2005
Rating:
7
There are so many good ideas in this latest Gallifrey series that some of them just don't get the room to be truly fleshed out. The lives of the multi-racial stuidents of the Academy are one of those ideas. With all the delicious political powerplays going on elsewhere, this concept does not really have the room to breath. That said, it was still really enjoyable all round.
By:
Doug, Pocono Summit, PA, USA
Date:
Wednesday 14 March 2007
Rating:
7
Spoilers ahead.

After the intensity of the events of the past three episodes, Insurgency slows things down a bit, while still escalating the progression of what has begun. The offworlder students at the Academy are being stirred up by the increasing restrictions that are being placed on them by the Gallifreyan government. This raises tensions among the student groups themselves, as racial differences become highlighted. In the midst of all of this, Leela has been persuaded to try her hand at teaching a class in the Academy, and is asked uncomfortable questions by the students, and someone has (apparently) been maneuvered into making an attempt to find and steal the Great Key (we are not yet told who has instigated this). Romana is slowly becoming unhinged, and Inquisitor Darkel has now launched an open challenge to her presidency.

None of the action in Insurgency is as enthralling as what we've had in the first three episodes of this series, but it is a solid story that continues the chain of events. While listening to this, it occurred to me that Louise Jamison is really excellent in this series as Leela. Lalla Ward has also been great, but her performance in this episode gets a bit strained as Romana begins to get a bit burnt-out here.

A solid 7, not quite an 8.