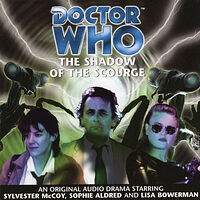 | | | |
| --- | --- | --- |
| | | |
| | Reviews for The Shadow of the Scourge | |
| | | |
There are 3 reviews so far. To add a review of your own for this item, visit the voting page.
By:
Clive Wright, Jersey
Date:
Saturday 21 February 2004
Rating:
8
Its good to hear the Doctor pushed to his limits, making mistakes and needing help. Often the Doctor seems to walk right already knowing the answer, which is dull.

A word must be said about the bad guys, they play on all our human weakness, just perfectly and sound excellent.

This is fun, fast and holds your attention, go and buy it.
By:
David Layton, Los Angeles, United States
Date:
Wednesday 3 January 2007
Rating:
2
Typical Paul Cornell drivel, with an alien menace so powerful it can control all of humanity just by talking, lots of gory death, and huge amounts of unwarranted sentimentality. Its one good feature is some smart dialogue scattered about.
By:
Matthew David Rabjohns, Bridgend, United Kingdom
Date:
Sunday 16 March 2008
Rating:
10
Dont really like many of the new adventure books. All they are is the doctor hardly ever present, and benny and ace at each others throats most of the time. a total waste of time. at least Paul Cornell has had the sense to tone down that line of writing in this epic and brilliant scary sci fi at its best story. The Doctor is pushed to the limit again. Is it mhy imagination or in the big finish range isnt it always Sylvester's doctor who gets pushed to the limit the most?! But Sylv Mccoy is such a great actor that he can afford to always be given the most intense and horrible scripts to do. He's leading a great cast in this story. Yet another filmic adventure to me. A great new monster in the Scourge, praying mantis with attitude. And Lisa Bowerman returns as Benny. The audio stories of Benny are classic, and here she goes again, giving it her all to save the Doctor's sanity in a plot full of originality and twists and turns all along the way. Sophie ALdred is great as Ace too, being deaf and all that. Ouch! But definitely classy stuff!