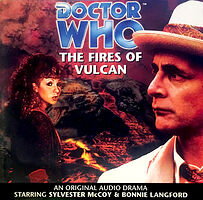 | | | |
| --- | --- | --- |
| | | |
| | Reviews for The Fires of Vulcan | |
| | | |
There are 5 reviews so far. To add a review of your own for this item, visit the voting page.
| | | |
| --- | --- | --- |
| | | |
| | Mel knocks your socks off | |
| | | |
By:
Clive Wright, Jersey
Date:
Saturday 20 December 2003
Rating:
8
Like Ace, Mel was one of those charaters I was worried about listening too, my ear drumbs might not handle it. However also like Ace on CD Bonnie Langford delivers a strong performance and a better Mel shines through.

The sence of mystery and darkness in the shadow of pompeii is excellent. Sylvester shows the dark side he started to deliver towards the end of his run of TV.

An excellent story with the surprise of a good Mel.
By:
the Traveller, the end of the world
Date:
Monday 24 July 2006
Rating:
8
I didn't find this Big Finish production hugely exciting, but it is very well written, acted and produced, so well done to all involved. I agree with the other reviewer of Fires Of Vulcan, Bonnie Langford is ten times better on audio than she was on TV, and Sylvester McCoy was always good anyway.
| | | |
| --- | --- | --- |
| | | |
| | An Entertaining Historical | |
| | | |
By:
David Layton, Los Angeles, United States
Date:
Saturday 2 December 2006
Rating:
7
The Doctor visits Pompei. Though it might seem a bit of a throwaway idea, it is actually handled quite well. There are a few "adult" elements snuck in, which goes in line with treating the Romans more historically accurately than in "The Romans." A real bonus is good writing for Mel and strong performance by Bonnie Langford. On the downside, we have a rather stock villain priestess and an overacted gladiator. Still, the good outweighs the bad.
| | | |
| --- | --- | --- |
| | | |
| | History at its very best... | |
| | | |
By:
Matthew David Rabjohns, Bridgend, United Kingdom
Date:
Wednesday 12 March 2008
Rating:
10
Bonnie Langford makes her return to Mel Bush and doesnt scream, thank goodness. She was another undervalued companion wasnt she? She has a great meory and brain like a computer and just never got to really use it on screen. But she is back now and better than ever when teamed mostly in this great story with Gemma Bissix as Aglae, a roman prostitute! Man, but you really like the girl. Steve Lyons is a great Doctor Who writer. Ive liked every story ive read or heard of his. And he seems to like his history. And The Fires Of Vulcan is a fantastic story. Hate the new series when its supposedly an alien invasion that sets of the volcano, boy what a load of rubbish. Some moments in history surely can be attributed to natural causes cant they for goodness sake?!! I hate discontinuity. It eats me up. Probably wont liek the series four episode at all either, but i may be wrong. Have to wait and see. Just seems the bbc pay no heed at all to big finish recordings at all. Cant they at least try?
By:
Andrew Shaw, Newcastle upon Tyne, United Kingdom
Date:
Monday 6 September 2010
Rating:
7
in this story I thought Mcyoy as 7th Dr gave up to easily on himself and Mel should have known to get into character as somebody from pompeii because she could have give the game away throughout but otherwise that an OK historical story