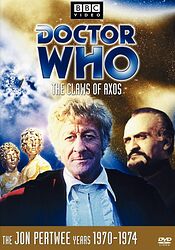 | | | |
| --- | --- | --- |
| | | |
| | Reviews for The Claws of Axos | |
| | | |
There are 4 reviews so far. To add a review of your own for this item, visit the voting page.
| | | |
| --- | --- | --- |
| | | |
| | ARRGG, when spaghetti attacks | |
| | | |
By:
kieren, kidderminster
Date:
Friday 6 March 2009
Rating:
10
Mad, well edited, well made and did I say mad, this a complex story, which doesn't slow down or has to be padded, is one of the best pertwees and one of the more watchable ones with something silly in it.
By:
Huw Davies, Taunton, United Kingdom
Date:
Monday 1 June 2009
Rating:
8
This is a really fun story - as the DVD booklet says, classic Pertwee. The episodes are driven by the hilarious Mr Chinn, and also the brilliant Master. Unfortunately we have only had one more taste of Delgado's brilliance recently with the Sea Devils, but with Frontier in Space up soon, we'll all be in for some more Master magic!
As for the extras, they are relatively poor, a few boring documentaries and some other stuff.
Story: 4.5/5
Extras: 3/5
Final: 8/10
| | | |
| --- | --- | --- |
| | | |
| | Flaming orange brilliance! | |
| | | |
By:
Matthew David Rabjohns, Bridgend, United Kingdom
Date:
Friday 1 April 2011
Rating:
9
1: Jon Pertwee is reaching his heights as the third Doctor. That the Master falls for his bluff towards the end of the tale is brilliant, and shows this Doctor is really quite manipulative but for a very good honest reason.

2: The UNIT team are all on fine form, highly entertaining. That Chinn idiot is a brilliant poncey political character. He has a hot head and nearly causes the entire destruction of Earth.

3: The axons are an incredible design. They look like totally mad spaghetti mutants and appear very real indeed. And the gold skinned axons are pretty brilliant too, aside from the very obvious zips!

4: Axos is a brilliant piece of design work. Totally garish, and I love that pulsing foam, giving the appearance of a heartbeat.

5: Roger Delgado is back as The Master and here at last we get a taste of his whole background story with the Doctor. His character is truly 3d and affective. Its no wonder he was so popular during the Jon Pertwee years.

6: The only niggles are Jo Grant given absolutely nothing to do at all throughout the whole of the story, she's just a true spare part. And if that complex was nuclear how come the explosion was so very small? Or did axos partly succeed in draining its power? This isnt really explained at the end. But aside from this minor snag this is a brilliant and convincing story. And Pigbin Josh is just an amusing creation. Uh...but why kill him off so soon> Ooohaarrh?!
By:
Trevor Smith, Nottingham, United Kingdom
Date:
Thursday 15 November 2012
Rating:
9
Episodes 2 & 3 have been considerably improved by the RT team.
There is a good making of on the SE as well.
If you don't have a copy of this story, get the SE rather than the standard version.