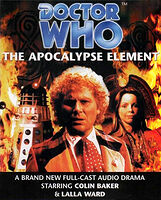 | | | |
| --- | --- | --- |
| | | |
| | Reviews for The Apocalypse Element | |
| | | |
There are 4 reviews so far. To add a review of your own for this item, visit the voting page.
By:
Clive Wright, Jersey
Date:
Saturday 21 February 2004
Rating:
7
Big Finish seems to have re-invented the Daleks by going back to basics. Good solid stories, although almost always set on a universal level.

Colin Baker continues to impress and the return of Romana was welcomed although her role was a little weak in places.

The idea that not only the Time-Lords can travel in time was a little shocking but handled well.

Another good story that would have made great TV, although audio is able to give a level of action and violence that TV would never permitt.



By:
David Layton, Los Angeles, United States
Date:
Friday 29 September 2006
Rating:
8
I am perplexed about why this one is not rated higher. There are only two drawbacks for me: it is played rather on one note, and the exact nature of the Apocalypse Element never gets explained well. However, the Daleks come across in the auio format as a true menace. The story itself is an extended "assault on..." and works very well given the Daleks' reputation as military tacticians. All the acting is top quality. The plot holds together quite well.
By:
Matthew David Rabjohns, Bridgend, United Kingdom
Date:
Wednesday 12 March 2008
Rating:
10
This would have made for a far better movie than the Paul Mcgann one i can tell you. This story has an epic feel to it, almost filmic quality. I can imagine this being played in the cinema, a great soundtrack with great music. The daleks are back and more scheming and evil than ever before. Nasty dialogue...i found the eye scene completely gross and unnerving, despite it still only being audio, visualising some things can be yuck! Colin Baker leads a grand cast with Lalla Ward returning greatly as Romana. This is brilliantly directed by Nick Briggs!
By:
Andrew Shaw, Newcastle upon Tyne, United Kingdom
Date:
Wednesday 14 July 2010
Rating:
9
This story I thought was great it spanned across several planets, Galaxies and again on audio they can show the Daleks to be truly evil and sadistic it goes along waY from what can be shown on television because of the amount of deaths and the massacre the Daleks achieve in detail..