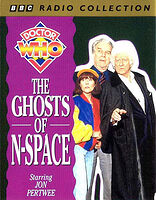 | | | |
| --- | --- | --- |
| | | |
| | Reviews for The Ghosts of N-Space | |
| | | |
There are 3 reviews so far. To add a review of your own for this item, visit the voting page.
| | | |
| --- | --- | --- |
| | | |
| | More Suitable For Film Than Radio | |
| | | |
By:
David Layton, Los Angeles, United States
Date:
Monday 17 July 2006
Rating:
6
Three yeares after the production of "The Paradise Of Death" came "The Ghosts Of N-Space," with basically the same team as before. Sadly, this would be Jon Pertwee's final performance as the Doctor. Here, he drops back into the role and demonstrates again why many think of him as the definitive Doctor. A revelation is Stephen Thorne, playing the villain Max Vilmius. Thorne, when used in past Doctor Who, was used mainly for his size and voice - both big to say the least. As a result, he was left to bluster his way through his roles, and I never found him at all convincing. What a difference the years make. Given the right role and some experience, Thorne really makes this role work. Though his Brooklyn accent is not wholly convincing, yet he makes Vilmius more than just another big, bad wolf. Harry Towb's over the top job as the Brigadier's uncle Mario is a different matter. Plenty of funny lines, but he never sounded Italian to me. The story is the real let-down. The whole explanation of N-forms and N-bodies as the truth behind both demons and the soul, or at least near death experiences, is rather complicated and unconvincing. In the end, it comes down to swapping names - call it an N-body rather than a soul and hope that no one noticed the switch. Another problem is that toward the end, many of the characters are required to provide awkward narration in the form of talking to themselves because so much of the story is more suitable to film than to radio. The production has many good moments, but needed a better story.
| | | |
| --- | --- | --- |
| | | |
| | pertwee's final broadcast | |
| | | |
By:
John Saltzburg, Philadelphia, PA USA
Date:
Thursday 14 January 2010
Rating:
9
recorded about the same time as Paradise of Death the Ghosts of N space was delayed in broadcasting for almost 3 years till 1996 (airing shortly before Jon's untimely death). Longer than paradise and a little goofier (but the uncle is great comic relief). Still excellent work by Jon and Nick. the quality makes me sad there weren't any more
| | | |
| --- | --- | --- |
| | | |
| | Not brilliant, but not disastrous either | |
| | | |
By:
Matthew David Rabjohns, Bridgend, United Kingdom
Date:
Friday 10 December 2010
Rating:
7
It is so sad that this story was the last one ever to feature Jon as the Doctor. One thing that is plainly evident here is just why so many loved his portrayal as the Doctor. His flair and rather more authorative character lit up all his stories like a light bulb. And he wasnt one for letting the oppressors get away with just a stern chat either. He brought action and charisma too, a very fine actor indeed. And he again does shine here, although it is noticeable how old he was here, as his tone is more cracked and graspy, but one would expect that considering he was over 70 here!

He is joined once more by the ever dependable Liz Sladen and Nick Courtney, who again both shine in their respective roles of Sarah and the Brigadier. And what is also really nice here is to hear Harry Towb given more than just a five minute Doctor Who scene! Stephen Thorne too once more is excellent, perhaps giving his finest performance as Max Vilmio. And I just love that grating, irritating voice of Sandra Dickinson. Her character is a dimension of light relief against the more harsher moments of the script. And Jeremy Fitzoliver is a splendidly over the top creation, and seems to go so well working with Sarah Jane Smith, the dialogue between these two characters is humourous and memorable, and makes for some entertaining listening.

The sound and music score here too is excellent, a really menacing and certainly chilling theme.

What lets the story down a bit along the way is the clear padded sections. There are some excellent moments, such as Maggie rupturing and Max getting stuck in the wall and his final showdown with the Doctor and the Poltergeist scene, but there are long moments that seem totally unnecessary. But this is nowhere near as bad as Ive seen and heard a lot of people say. (But I do admit I dont like the language used at times here too, Doctor Who is better without this common trait)

This is a far more adult tale too. I can see little kids being frankly upset by some of the content within this tale. Some of it is quite explicit, the sound design being rather realistic and well produced and directed.

Overall this is a very worthy last hurrah for one of the best actors to play the errant Time Lord. It really is sad Jon Pertwee is no longer with us. I'll miss his Doctor Who and his Worzel Gummidge a lot.