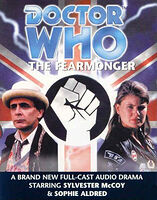 | | | |
| --- | --- | --- |
| | | |
| | Reviews for The Fearmonger | |
| | | |
There are 7 reviews so far. To add a review of your own for this item, visit the voting page.
| | | |
| --- | --- | --- |
| | | |
| | Strong early audio in the S26 style | |
| | | |
By:
Siskoid, Moncton, NB
Date:
Friday 14 October 2005
Rating:
8
Maligning this audio goes hand in hand with not liking the 7th Doctor, in my opinion, but I'm a big fan of McCoy's later stories. As with Fenric, Ghost Light, et al., he arrives on the scene already aware of a great evil, and does his best to destroy it. Unlike the named stories however, the story's not as complex. But that's ok.

The idea of using radio shows and journalism to frame the audio story is a good one, and there's fair lampooning of right-wing talk radio here. The near-future Britain pictured is topical, with elements of fascism peeking through. And not all evil is done on the Fearmonger's behalf. This is a suitably adult story.

The identity of the monster suffers some twists and turns through the story, which keeps it interesting for the listener, and there's some sparkling postmodern dialogue throughout. One magical scene occurs at the end with McCoy showing his "darker" Doctor.

If I have a criticism to offer this story, it's that some of the male members of the supporting cast sound too much alike, and it gets confusing as to who is who, especially if listened to over a longer period of time.

Overall: A story that fits in well with the era it is meant to represent, and that uses the audio medium to its advantage.
By:
the Traveller, the Mick Thompson Show studio
Date:
Saturday 11 February 2006
Rating:
9
The Fearmonger is one of the best Big Finish productions. Sylvester McCoy and Sophie Aldred give assured performances, the supporting cast are strong, and there are some great cliffhangers. Fantastic.
By:
David Layton, Los Angeles, United States
Date:
Saturday 2 December 2006
Rating:
4
Jonathan Blum always does two things with a Doctor Who story, start in medias res and have the Doctor out on a crusade to save humanity. The Doctor as deliberate meddler rather than accidental meddler has always been a problem for me. The Doctor is not a comic book superhero, but Blum really, really wants him to be one. Starting in the middle of things and then racing forward so that there is little to no explanation of how and why the Doctor got involved in all this in the first place is another serious weakness. Finally, there is too much heavy-handed, pseudophilosophic dialogue.
By:
Matthew David Rabjohns, Bridgend, United Kingdom
Date:
Wednesday 12 March 2008
Rating:
9
Sylvester Mccoy and Sophie Aldred always were a winning team on screen, and in their debut big finish tale they continue to impress and endear me!

The Fearmonger in fact is the only story ive ever liked written by Jon Blum. The eighth doctor book range, dont even get me started. But this is a great and gripping tale from beginning to end.

I love stories that leave you wondering how it all started, some people would say its not a whole story without an intro as to how and why the doc first got involved, but its not always essential to the story. And here is a case where it isnt again. Just dive on in deep in the realm of dissemodied fuzzy aliens that feed on emotion with frying pans and neo nazis and all that. Put these elements together with a strong cast and strong script and you get a cracker of a story. This is an intriguing and thorougly modern tale, this could have suited the new tv series. Jon Blum's only brilliant success at Doctor Who writing. This is a story that shines.
| | | |
| --- | --- | --- |
| | | |
| | A Book should not be judged by cover... | |
| | | |
By:
Andrew Shaw, Newcastle upon Tyne, United Kingdom
Date:
Wednesday 14 July 2010
Rating:
7
When I saw the cover for this story I was expecting it not to br very good but Im glad I bought it ecuase it is not bad and I certainly didnt guess the outcome yes its a not bad story...
| | | |
| --- | --- | --- |
| | | |
| | The big finish story that hooked me! | |
| | | |
By:
Matthew Adamson, Colchester, United States
Date:
Saturday 10 May 2014
Rating:
9
I've been listening to the big finish doctor who main range in order and The Fearmonger to really be a burnburner of story. I like the action picking up right away, A real emotion of fear being used and the seventh doctor and Ace are just brilliance.


| | | |
| --- | --- | --- |
| | | |
| | 7th Doctor & Ace at their best | |
| | | |
By:
Andrew Munro, Corby, United Kingdom
Date:
Sunday 14 May 2023
Rating:
8
If you love the 7th Doctor & Ace then you will love this and it gives you all of the feels from this era.

Acting as always is superb.

The pace is just right with some straight out of the 80's cliff hangers.

Listening to this some 20 years+ it was scary to hear how relevant the story is now.

What are you waiting for go buy it.