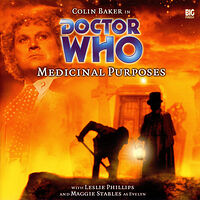 | | | |
| --- | --- | --- |
| | | |
| | Reviews for Medicinal Purposes | |
| | | |
There are 4 reviews so far. To add a review of your own for this item, visit the voting page.
| | | |
| --- | --- | --- |
| | | |
| | Disappointing (contains spoilers) | |
| | | |
By:
Sean Brady, Australia
Date:
Thursday 2 September 2004
Rating:
2
Advance news of this one sounded very promising indeed...an historical story featuring the infamous bodysnatchers Burke and Hare. What a shame that such a terrific story opportunity was wasted with Medicinal Purposes.

The main problem I had with the story is that it's a very slim premise padded out to four parts. There's a lot of running back and forth from one location to another with little of the plot being advanced. And then there's the sixth Doctors almost cheery attitude towards the actions of Burke and Hare. He tries to justify what they did to Evelyn and it just doesn't gell with what we know of the Doctor at all. He even tells Hare to keep up the good work. One expects the other shoe to drop and find that the Doctor has an ulterior motive for this behaviour, but it doesn't happen. The writer and script editor/director seem entirely comfortable with these views and that put me at odds with the story. And considering that TPTB at BF have gone to great lengths to make Colins Doctor more compassionate and emotional, this script doesn't do the evolving character of the sixth Doctor any favours at all.

More importantly, we've just come out of a story arc with Evelyn suffering a great deal of emotional turmoil at the death of innocents (three stories worth)...and here we have the Doctor taking her into a situation where he casually introduces her to characters who he admits will soon be killed. Colin Baker does what he can with the situations and lines he's given, but even he has trouble making the Doctors character in this story believable or indeed sympathetic and likeable. And the Doctors speech at the end of the story is very poorly handled by the author...he drops Daft Jamie off at a point where he's about to be killed and waffles on about Jamie getting what he's always wanted, a place in history and in peoples hearts. What the....?

As for Leslie Phillips, he's given a one note character to play in "Dr Robert Knox"...all purring charm and little else. I never felt at any point of the production that he was a force to be reckoned with. The character was so cliched that I found myself having to go back and listen to scenes because I had lost interest in the character and what his motivations where. Phillips, like the other actors, does his best with the material at hand but he certainly deserved better. What's really disappointing is the build up that this character may be a rogue Time Lord but is eventually revealed to be someone who bought a TARDIS and is using it to profit from his scheme. Maybe I'm missing something, but wouldn't it be extremely difficult for a non-Time Lord to understand and effortlessly control a TARDIS, especially this one which "Knox" claims is a Type 70..? Hell, even the Doctor has trouble controlling and maintaining a Type 40!

There's certainly stuff worthy of praise here. The sound design and music are excellent and the actors give their best. The cover art is very good. Just a shame that the story itself was so lacklustre.
By:
David Layton, Los Angeles, United States
Date:
Wednesday 25 October 2006
Rating:
5
I am sure that Robert Ross took the idea that the Doctor should have "alien" attitudes, but the ideas he hands to the Doctor here simply contradict all that we know of the Doctor's morality. Praising murder because it somehow indirectly advanced medical science is not the broad view, but just the worst kind of ends-justify-the-means thinking that the Doctor always crticizes. The basic idea of replaying history as a snuff film is interesting. However, we never learn just where this audience. This script needed a serious rewrite.
| | | |
| --- | --- | --- |
| | | |
| | TEN STARS...AND ILL EXPLAIN WHY | |
| | | |
By:
Matthew David Rabjohns, Bridgend, United Kingdom
Date:
Wednesday 15 October 2008
Rating:
10
1: Colin Baker gives a brilliant performance in this great historical yarn. And he even has the local girl coming onto him in a big way which is a seriously funny moment.

2: Maggie Stables again provides a great voice to Evelyn, the best audio companion of them all in my book. And her voice seems at home with the likes of Leslie Phillips, some great scenes between the two in this play.

3: The setting and the atmosphere are high and are not as dull and stilted as some might think. especially for a person who likes long and hard hitting stories, for which this story ticks both boxes.

4: And as ive said before, the inclusion of such a great actor as Leslie makes this one a real standout in the big finish audio productions. Dr Robert Knox is another in a great line of time meddlers, and this time he has a real personality and is able to deliver it brilliantly.

5: and the writing is actually very well presented. Robert Ross is a good pair of hands to write a tale like this. all little snippits of history and also his great characterisations of burke and hare come to the fore in this great adventure...

so there!!!!!!!!!!!
| | | |
| --- | --- | --- |
| | | |
| | A Good Intellectual Piece | |
| | | |
By:
Jared Harr, St. Marys, United States
Date:
Saturday 16 May 2020
Rating:
9
Was a pretty good intellectual story for the most part. It doesn't completely go overboard on the intellectual stuff like "Ish" or "Year of the Pig," but it does have a decent amount of it in there.
You are subjected to an intriguing mystery once you get past the waffley first part which describes in the vaguest way possible the important historical characters of the episode: Burke and Hare.
There were also some neat twists positioned at some of the low points that made me excited to keep listening. Also, I loved Davis Tennant's character. He was very well done! Plus the denouement is beautiful here.