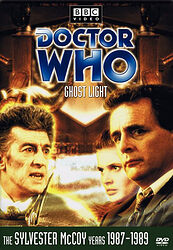 There are 5 reviews so far. To add a review of your own for this item, visit the voting page.
By:
whites, sos,england
Date:
Monday 8 May 2006
Rating:
9
This is one of the best for sure. Dark and foreboding, and actually exploring the companions character (as the other stories do from this season- not including battlefield).

The show was taking a much darker direction at this time and a mcoy and aldred season 27 would of been sooooo cool!

By:
Matthew B, Cardiff, Wales
Date:
Monday 2 October 2006
Rating:
9
Truly wondrous. A glorious mixture of musty Victoriana, breathtaking science fiction and a strong central theme of evolution and change, Ghost Light is an unqualified success from top to toe. Only Sophie Aldred disappoints in a cast that make Marc Platt's script sing. Sylvia Sims and Ian Hogg in particular are stunningly good, closely followed by Michael Cochrane, who brings a wonderful sympathy to Redvers, a Victorian explorer driven mad by things beyond his comprehension. Add to this the beautiful sets and Mark Ayres' finest score and you have a near-perfect Doctor Who story.
By:
Trevor Smith, Nottingham, United Kingdom
Date:
Friday 23 May 2008
Rating:
8
A much underrated classic. On first watch it is a bit baffling but repeated watching pays off.
| | | |
| --- | --- | --- |
| | | |
| | Creepy, but pretty damn good | |
| | | |
By:
Huw Davies, Taunton, United Kingdom
Date:
Wednesday 4 June 2008
Rating:
8
This title is certainly not the best Doctor Who story, and probably not the best of the McCoy era (that honour would probably go to Remebrance of the Daleks) but it is underrated as a story, and is definitely worth getting hold of a copy.
By:
Matthew David Rabjohns, Bridgend, United Kingdom
Date:
Friday 1 April 2011
Rating:
9
This is a dark and brooding tale, with plenty of horror elements. Those husks are excellently done, and those screeching birds make for a chilling scene. And Ace's horror at where they are is very very well performed by Sophie. I love the Reverand's stance on Josiah's theories, which are total twaddle. Light is a highly interesting creation. And the ending is original. The characters are all very well rounded and have lots of layers. The Policeman is some light relief compared to the harder horror aspects of this story. And Sylvester McCoy is and manipulative and unthamably good as ever. The editing at times can be a bit jarring, and the plot is hard to follow with ease, but once grasped then this is a very strong piece of Doctor Who. Sad it was the last one to be made for the last series, a real high note indeed.