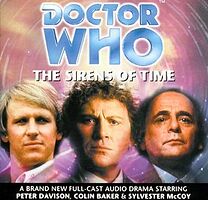 | | | |
| --- | --- | --- |
| | | |
| | Reviews for The Sirens of Time | |
| | | |
There are 9 reviews so far. To add a review of your own for this item, visit the voting page.
By:
Clive Wright, Jersey
Date:
Saturday 20 December 2003
Rating:
6
I was so looking forward to the return of the Doctor and with three of them at once, my hope were raised for something special.

Parts 1-3 are good, well paced leaving you feeling whats next, what is behind all this, classic Doctor who However the last part is poor, it feels rushed and the the plot lines appear to come to little.

Sorry but not what I was looking for, but glad the Doctor is back.

By:
Siskoid, Moncton, NB
Date:
Friday 14 October 2005
Rating:
5
The story certainly has some good parts to it, but fact is, each Doctor's tale is cut short by the episodic format just as you're getting into it (or not, since quality varies between them).

7th Doc: The stuff about the Knights of Valeshyaa is interesting to anyone who's ever enjoyed the Dalek Empire series, but it seems so disconnected from the rest of the story. Where are the temporal anomalies? Where's the Doctor, even? You get the point of the new history at the end, but still seems apart from the rest. And the Ruthley character is insufferable.

5th Doc: The best set piece of the lot with the TARDIS dramatically floating out in the ocean with some real jeopardy, but again, truncated.

6th Doc: In the right style but hopelessly technobabbly. I do like the idea of the Temperon, but like the others, you just don't spend enough time there.

All together now: Gets to be a bit of a talky, and I'm not a big fan of the Sirens, but I did like how the Doctors each showed their differences in both dialogue and level of pragmatism without descending into grating arguments as were on display in, say, The Three Doctors. I like the chapter best since I'm a sucker for tying the Timelords into paradox-heavy storylines, though you gotta watch out for too much exposition.

Overall: Average. Would have been better with a single Doctor visiting the various nexus points in history without his extra selves, or all three being together from the start.
By:
Greg Holtham, Mattydale,USA
Date:
Sunday 10 December 2006
Rating:
6
...which it is. It's by far not the most engaging stories from the BF catalogue, but what it does do is provide a neat introduction to the world of Doctor Who, the character, several of his incarnations, his ship, background, etc. It also gives an idea of his adventures in space & time. Naturally, the final chapter is the best with all 3 Doctors working together (and apparently setting the 6th and 7th Doctors up in a relationship reminsincent of the 2nd and 3rd Doctors). As I said there are better audios out there (and I'm sure you can pick one out yourselves without my biased opinion), but "Sirens" is still a good way to introduce yourself to either the BF audios or Doctor Who.
By:
David Layton, Los Angeles, United States
Date:
Wednesday 3 January 2007
Rating:
6
I agree with Siskoid's assessments, mostly. What we have here is three incomplete stories, each of which needed at least another episode to work properly, and a frame tale that does not tie in well enough with other parts. The three principles fall easily back into character, though, which redeems this story to some extent.
| | | |
| --- | --- | --- |
| | | |
| | Good Idea, but should have been longer. | |
| | | |
By:
C G Harwood, Dunedin, NZ, New Zealand
Date:
Monday 1 October 2007
Rating:
6
The problem i had with this story was exactly what everybody else has said, its three stories with the last episode stitching them all together - a good idea and one Doctor who has done to good efect in the new series (eg Mr Saxon, Bad Wolf etc) but in this story it didn't work simply because there was only 24 minutes for each episode. This would have been so much beter if they had decided to make it a 6 episode story (and considering it is the first, they could have done it).
By themselfs Davidson, Baker and McCoy were very good and slipped back into there roles very well, all three were very belivable. However when they got together the story and there acting knid of fell apart. they knid of didn't know weather to be nice to each other or argue the whole time.
If i was going to recomend a story to somebody who had no idea who the doctor was I wouldn't recomend this one. This was a good idea but just didn't work well.

| | | |
| --- | --- | --- |
| | | |
| | Overview of Big finish really... | |
| | | |
By:
Matthew David Rabjohns, Bridgend, United Kingdom
Date:
Sunday 2 March 2008
Rating:
9
This story was the big introduction for doctor who from Big finish. And this story really as a whole displays all that has been great about the series ever since. I love the big finish audio stories better than any other doctor who stuff.

Nick Briggs starts us off with a story packed with scares and great creepy music score and great performances from all involved. The threat is great and realistic and the script is great. Nick is a great writer of action. And there is plenty to be found in this debut big finish adventure. All the doctors return on fine form. This is one of the audios thats more like a film on audio. Highly entertaining and creepy stuff. You should check this story out...
By:
Andrew Shaw, Newcastle upon Tyne, United Kingdom
Date:
Sunday 27 June 2010
Rating:
8
This was the 1st Big Finish Dr Who story I picked up I saw it for sale cheap and thought I like Dr Who audios Ill give it a try and Im glad I did I really enjoyed and and for buying that I am now collecting and enjoying other titles.
| | | |
| --- | --- | --- |
| | | |
| | Great for a first attempt. | |
| | | |
By:
Harry Ross Gorman, Bromborough, United Kingdom
Date:
Tuesday 19 May 2015
Rating:
6
This is a good multi-doctor story but I find the varying locations confusing. The most enjoyable part is when all the doctors meet up. Overall it is an enjoyable story.
By:
Fraser Gibbs, London, United Kingdom
Date:
Wednesday 29 August 2018
Rating:
4
This adventure felt very much like Big Finish finding it's feet. The first three episodes vary hugely in quality with some of the returning doctors adapting to the audio only format much more gracefully than others.
However, despite teething issues, there's massive amounts of fun to be had here especially come the fourth and final episode where the three doctors meet.