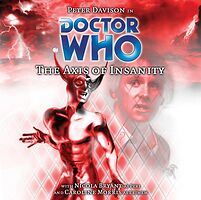 | | | |
| --- | --- | --- |
| | | |
| | Reviews for The Axis of Insanity | |
| | | |
There are 4 reviews so far. To add a review of your own for this item, visit the voting page.
By:
Simon Black, UK
Date:
Thursday 20 May 2004
Rating:
7
One of the better Davison releases, but I still find Erimem annoying
By:
Clive Wright, Jersey
Date:
Sunday 14 November 2004
Rating:
7
Peter Davidson's stories seem to get better and better. This is a very good story with a foe who would be the envy of the Toy Maker.

More please
By:
David Layton, Los Angeles
Date:
Thursday 24 August 2006
Rating:
6
Having already had Dr. Who vs. The Wicked Witch of the West, i.e. "Nekromanteia," now we get Dr. Who vs. The Joker. What next? Dr. Who vs. Santa Claus? Despite that, this story was better the second time I listened to it. One virtue is that the companions are not stupid in this one. Another is the excellent pacing, which keeps the action at just the right pitch. There are some problems with it, though. One is that Jarra To's ability to change shape never gets explained. Neither is her or her Jester form's extraordinary physical power ever explained. I keep wondering what the exact threat is, or why everyone is so scared in his/her presence. So, some good, some bad.
| | | |
| --- | --- | --- |
| | | |
| | BIT LIKE THE MIND ROBBER... | |
| | | |
By:
Matthew David Rabjohns, Bridgend, United Kingdom
Date:
Thursday 23 June 2011
Rating:
9
And so that fact alone makes this one of those very enjoyable stories. Peri and Erimem are developed well, and Caroline Morris is particularly impressive here. I love her character to bits. The Character of Jarra To is just maybe a little over the top in places, but overall this a very good story indeed. Peter Davison is on top form, playing the Fifth Doctor with his usual zeal and charm. The scenes with the fire breathing dragons are particularly effective, and the TARDIS graveyard scene is quite understated and touching as a finale. Ive yet to see another Simon Furman Doctor Who story yet, I hope he's asked back soon. The sound score for the axis sounds impressive and very intriguing. It feels like this audio is definitely played out against a vast alien backdrop, one cant feel it one every single audio story but one can feel it here. The scenes of Erimem learning to read are particularly funny, and the dialogue is really good.