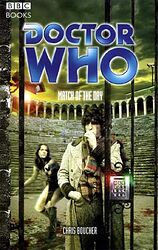 | | | |
| --- | --- | --- |
| | | |
| | Reviews for Match of the Day | |
| | | |
There are 6 reviews so far. To add a review of your own for this item, visit the voting page.
By:
The Voter from Vortos, Vortos, Nebula Galaxy
Date:
Sunday 10 April 2005
Rating:
7
For once! a true Doctor Who book, topped up with a totally original storyline and plot for that. The Doctor and Leela were true to their TV characters (maybe that was because clever writer Boucher created Leela in the television series) and the actions scenes were fast, well described, and weren't gothic horror (like a lot of new books make the cliffhangers). A book stretched a tad too long, but worth your while.

Fantastic stuff. You'd kill for it.
By:
the Traveller, an arena
Date:
Saturday 11 February 2006
Rating:
8
After reading Chris Boucher's terrible Last Man Running, my hopes for this book weren't high.
Fortunately I was wrong. The characters of the Doctor and Leela are well catered for, and the story moves along at a steady pace. The ending, however, is one of those blink and you'll miss it ones, and leaves the reader slightly perplexed as to what's just happened. Nevertheless, this is much better than Boucher's previous books
By:
Hatman, outside mcdonald's
Date:
Friday 26 May 2006
Rating:
7
Not too bad, but was a bit silly.
By:
Darek Pilař, Pardubice, Czech Republic
Date:
Friday 5 August 2011
Rating:
9
This is my first DW Classic book which i read. I choose this one, because Leela always was and still is my most favorite companion and on this book she is on the cover :-D
I was very pleased with this book because most of it is about Leela and plus she is just awesome like she was in TV.
On beginning I was little bored with all that Keefer passages, but with more and more pages i accepted and I like it. So because of few paragraph with Keefer and little to fast and simple ending I give 9! :)
By:
Trevor Smith, Nottingham, United Kingdom
Date:
Saturday 16 June 2012
Rating:
7
Like (almost) all of his other 4th Doctor & Lella books, Chris Boucher gets this spot on. An excellent interesting Storyville of twists & turns. Recommended.
By:
David Layton, Los Angeles, United States
Date:
Friday 26 August 2016
Rating:
6
I have liked the Chris Boucher Doctor Who books I have read until this one. The premise is that the Doctor and Leela land on a world on which half the population is devoted in some way or another to death-match dueling contests. Leela accidentally gets mistaken for a challenger and the Doctor has to become her agent and try to keep her clear of getting into trouble. All this is happening against a background involving a fighter named Keefer who escapes an assassination attempt and then goes looking for his would-be killer. Boucher here has attempted a kind of parody of sports by accepting the exaggeration that fans only want to see athletes hurt each other and then making an entire world based on that concept. Thus, there are elaborate rules that no one fully understands, players and agents, training schools, and so on. One funny bit involves a trial that drags on for ages while the tribunal watch instant replay from nearly every angle over and over again. There were a few things that for me were fundamentally wrong with this novel. The first is that clearly on this planet the people understand that there are off-worlders, so why don't The Doctor and Leela simply say that they are and so avoid all the mess they get themselves into? The second is that the plot takes far too long to identify the key problem to be solved. Why was Keefer attacked? What has it to do with the Court of Attack? Is the Doctor supposed to change this weirdly unethical society? And so on. Because the main problem is not identified, the main characters seem to be getting nowhere for most of the novel. After 200 pages, the reader still has no idea where this is going or that any of the three principals - The Doctor, Leela, and Keefer - are anywhere near to identifying who is manipulating events and why. The third problem for me is that for the first time Boucher succumbs to the trap of writing the Fourth Doctor in a novel. He is too scatter-brained and uncertain. It is alright for him to be a little scatter-brained and uncertain, but in this novel that is his principal mental state. Boucher manages to keep the pace moving, and writes Leela well, but I really could not find this novel to be structured enough.