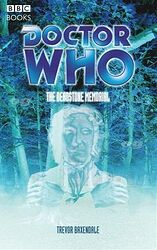 | | | |
| --- | --- | --- |
| | | |
| | Reviews for The Deadstone Memorial | |
| | | |
There are 9 reviews so far. To add a review of your own for this item, visit the voting page.
By:
Joe Ford, Eastbourne
Date:
Friday 19 November 2004
Rating:
9
The EDAs are in great shape as they approach their demise, its bizarre how the series' fortunes can turn around so dramatically after being ripped to pieces.

Trevor Baxendale is a variable author capable of surprising (Eater of Wasps) and capable of boring (Coldheart) his audience. The Deadstone Memorial is a his best book yet, managing to frighten much more effectively than his Fear of the Dark last year.

By domesticating the Doctor and scaling down events to such a degree that it concerns only the horrors of one family the book has a degree of intimacy that is impossible to not get sucked in by. The Doctor is on true form, especially when he drags Hazel out into the garden to wave at the stars...you get to see first hand the magic the eighth Doctor can weave.

Fitz and Trix are also given a fair bit of space for development, one trying to figure where he fits in these days and the other revealing something of her opaque past that has been so elusive so far.

The book delights in making you squirm and the climax in particular features a *monster* so grotesque it provides a memorable close to the story. I loved the rat scratching is way out of the Doctor's skull...eugh!


By:
John Ellison, Atlanta, USA
Date:
Sunday 6 March 2005
Rating:
10
Although I think this title would have benefited by being distanced in sequence from the Lovecraftian "Sleep of Reason" it is very different and holds it's own superbly. The pacing is lightning quick with solid three dimensional character interaction driving the plot!

Fitz and Trix both play interesting roles in the story and Fitz's loyalty to the Doctor has never been better portrayed. Likewise, Trix has finally started to seem as if she wants to belong as well. And the Doctor has never seemed more himself (caring, eccentric, charming, and such).

All in all, a roaring good romp that satisfies on all levels!
An excelt Stroy that leaves you smiling and feeling good when you close the book. A well thought out story that never once has you saying, "yeah, right." or "only in Doctor Who." Very beleivable characters. Trevor Baxendale is a very good writer that makes it very easy to share in the emotions of all his characters. He knows the difference between giving you enough details to make you feel like you know the character personally and boring you with pointless facts. If your the sensitive type the last couple of chapters might bring a tear to your eye before leaving you with a smile on your face.
After the disappointing Sleep of Reason, I was scared to pick up the remaining three books in the 8th Doctor adventures. To my surprise, I couldn't put this book down. Now this is what Doctor Who is all about. It was full of suspense and mystery. It showed the human side of all of the characters without destroying the mystery that the Doctor brings with him to every situation. My hats off to Trevor and his excellent save for the 8th Doctor's final days!!!
By:
The Voter from Vortos, Vortos, Nebula Galaxy
Date:
Sunday 10 April 2005
Rating:
2
This book has been one of my biggest disappointments during my time reading hundreds of Doctor Who books.

I found the book constantly shifted to scenes too many times, made an emphasis on blood and gore, kept the repeating "oh my eyes are big and black", and was a horror story, not Doctor Who (and a bad horror story at that!). As for how it becomes sci-fi, you might as take the entity from another universe and turn it into a demon trapped between heaven and hell, and needs the Doctor's help to make him return! And, another thing, you can't stop reading it because you have to get to the end, which is not good considering what the book is like. Full of occult and modern life. Not a good combination.

Two vote-points, thought, for the Doctor showing Hazel the stars (can we have more of that type of Doctor??) and the bookcover, and the little snippits of comedy.

Trevor's worst book yet. I seriously hope I can see a better ...DOCTOR WHO... book from him in future.
This was Doctor Who as it was meant to be read. Fabulous pacing, breathless action, excellent characters, lively short sentences. Very sophisticated storytelling.

Most authors know very little about pacing. Trevor Baxendale is a master of it. The book never suffers from slow or dull moments. There is no useless description, no sex (thank goodness), no swearing , and lots of the Doctor. I like the small scale of the adventure, limited only to one family, and the horror element is always welcome in Doctor Who.

Doctor Who, at its most basic, is good family entertainment. The Dreamstone Memorial includes a family as central to the plot, without bringing in the more "mature" overtones that other Doctor Who authors often use. I look to Doctor Who as a means of escaping from the world, similar to the abstraction of mathematics, rather than as a way of dragging the world along with me. Many of the other Doctor Who authors should take a page out of Baxendale's book (literally, perhaps), since I find sex and vulgarity to be derivative and foolish, detracting from the intellectual powerhorse that is Doctor Who.

All in all, a breathtaking book. Brilliant, original, creepy. Everything a Doctor Who book should be.
| | | |
| --- | --- | --- |
| | | |
| | loads of horror and black gunk | |
| | | |
By:
the Traveller, accompanying Hatman
Date:
Friday 26 May 2006
Rating:
9
Very well written, with plenty of horror and good Doctor moments, such as when he shows hazel the stars from her roof.
One of the most readable and enjoyable Who books yet.
By:
Hatman, new Lewes mark 2
Date:
Tuesday 6 June 2006
Rating:
6
mm... psychic monsters. the villan should have been called hat man. that would have been good. the end wasn't very clear.
By:
Paula, Michigan, USA
Date:
Wednesday 3 January 2007
Rating:
10
Of all of the Doctor Who books I have read, about 20 so far, this one is my favorite. It was spooky, interesting and well paced. I enjoyed it from start to finish.