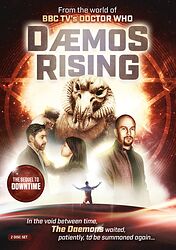 There are 2 reviews so far. To add a review of your own for this item, visit the voting page.
By:
Gordon Michael Salt, Oldham, England, UK
Date:
Wednesday 31 March 2004
Rating:
8
I bought this as a fan of the Pertwee era. I'd seen the Auton series and the early effort Wartime and seen that the initial credible efforts were improving, so I thought I'd give Daemos Rising a try. I'm glad I did it is a very atmospheric & well acted peice of drama. Obviousley they haven't the budgetfor top notch effects and I'm afraid this does show when the Daemon appears; perhaps a 'man in a suit' might have worked after all if it could have been filmed in the right way, otherwise the rest of the drama has great special effects. Miles Richardson is excellent. I'd recommend this particularly for all fans of the Pertwee era. If only the Daemon effect could have been better it would have been good enough to air on peak time TV. Well done Reeltime.
| | | |
| --- | --- | --- |
| | | |
| | Better the Devil you watch | |
| | | |
By:
James , England
Date:
Tuesday 27 April 2004
Rating:
9
I love it, I'm a newbie to these spin-offs and after watching Daemos Rising I'm now a junkie and I'm going to search for more of these spin-offs as they look better than most of the Doctor Who transmitted during the 80's!