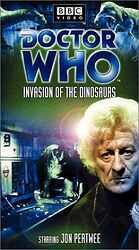 | | | |
| --- | --- | --- |
| | | |
| | Reviews for Invasion of the Dinosaurs | |
| | | |
There are 3 reviews so far. To add a review of your own for this item, visit the voting page.
By:
Matthew Houliston, Edinburgh
Date:
Monday 20 March 2006
Rating:
7
Quite good plot.Special effects could of been way better,but I suppose it was the best they could do at that time.
By:
Jamie Hardwick, Gloucestershire, United Kingdom
Date:
Sunday 21 October 2007
Rating:
10
Amazing! One of the best Who episodes ever! Should be out on DVD already!Jon and Elisabeth play the parts brilliantly with the supporting characters great!
| | | |
| --- | --- | --- |
| | | |
| | An altogether excellent story.... | |
| | | |
By:
Matthew David Rabjohns, Bridgend, United Kingdom
Date:
Thursday 9 September 2010
Rating:
9
As is the case for many a Doctor Who story, an otherwise flawless production is let down just by the effects. But this is only relevant when it comes to the poor design of the Tyrannosaur. The other model dinosaurs arent actually all that bad, although they are clearly unflexible and stiff and therefore not brilliant for all out dino-fighting as seen in the Lost World. But as that film had more money than most of the entire original series of Doctor Who, then actually it wasnt done too badly. And for a point in fact, this story is far better than Jurassic Park, for all its special effects.

Jon Pertwee is at the head of a very experienced and polished cast. And Elizabeth Sladen is really making an impact already as the headstrong but reliable Sarah Jane Smith. Peter Miles again portrays one of the villains of the piece brilliantly, as with his past and futre Doctor Who roles.

The plot of this story is also believable and easy to follow. The writers of the Third Doctor Handbook obviously cant see the merit in this excellent story. Barry Letts seemed to be injecting a lot of his productions with a good moral centre, and here it is done in a twisted way where the ends as per usual dont justify the means.

And that Mike should become one of the enemy is not too hard to believe. Its a neat little surprise that I was totally not expecting at all. Richard Franklin really excels in the story right from the word go.

And the final scene with the Doctor talking all things greed is excellent and very well scripted. A real truth amidst the fantasy of the program.

This was and still is one of my favourites of Jon Pertwee's era as the Doctor. I cant believe the Handbook rates it as two out of ten. That really is abominable and totally unbelievable too. This story really does have a lot going for it. Paddy Russell's direction is spot on with the characters, and its not her fault she had to deal with that t-rex. She did a great job and deserves recommendation!!!