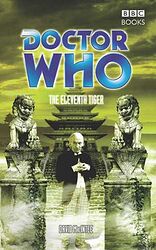 | | | |
| --- | --- | --- |
| | | |
| | Reviews for The Eleventh Tiger | |
| | | |
There are 5 reviews so far. To add a review of your own for this item, visit the voting page.
By:
Joe Ford, Eastbourne
Date:
Sunday 21 November 2004
Rating:
9
It would appear that David A. Mcintee's time away from Doctor Who has done him the world of good, whereas when he was writing three books a year his work suffered as a result this colourful historical drama has clearly been lavished with a lot of time and love.

I'm not sure what was better, the glorious setting in the East, the intelligently written first Doctor (who gets an excellent moment away from his wisdom to have a Kung-fu fight!)or the sweet romance developing between Ian and Barbara. There are a number of excellent secondary characters who light up the book and the main villain is enough of a creep to make you want him put out of the way.

It not only has the best McIntee plot since Face of the Enenmy but the writing has improved tenfold too with a slower, less OTT prose style which suits the story perfectly.
| | | |
| --- | --- | --- |
| | | |
| | Everybody was Kung Fu fighting ... | |
| | | |
By:
Darrg, Wessex
Date:
Tuesday 1 March 2005
Rating:
8
An entertaining read which uses the ever-enjoyable conceit of combining myth with pseudo-science, and does it quite well; I don't think it's too much of a spoiler to say that it draws heavily on one of Nigel Kneale's memorable concepts... It is true to the first Doctor's remit to educate as well : I'd certainly never heard of the legendary figures from martial arts mythology who are the major supporting characters in the book, but it encouraged me to look them up.

The Doctor quoting (coincidentally of course!) from the record of 'Kung Fu Fighting' raised a smile even if at heart I wished he hadn't ... Otherwise the only weak point is the writing for Vicki - though in that sense it is also true to the original series!
| | | |
| --- | --- | --- |
| | | |
| | May you live in not-very-good times | |
| | | |
By:
Hatman, New Moscow
Date:
Friday 26 May 2006
Rating:
6
It was ok-ish. the monks made no sense and it was not very well explained. better than most though.
By:
David Layton, Los Angeles, United States
Date:
Tuesday 11 January 2011
Rating:
7
McIntee, like Bulis, is one of the reliable Doctor Who authors. His stories are well-paced, easy to read, and not terribly demanding. "The Eleventh Tiger" has all of these elements. Brilliant it is not. However, it does justice to the Doctor Who we remember. McIntee has written a story that could very well have been produced as a TV serial in 1964, with only a few things not doable at that time (these being the savage beating of Ian early in the book, and the love interest between Ian and Barbara, with perhaps the electro-information grid in the tomb at the end.) There are a couple of quibbles I have with it. The first is that the nature of villains is not really explained all that well. There seems to be a hint or two that we are dealing with beings very like the Mandragora helix, but somehow none of this is made explicit. Another is that the "stone tape" idea is completely naff, providing a thoroughly inadequate explanation for why the first emporer's personality is transferred to the abbot. A third is McIntee's variable quality prose, which runs from insightful and even poetic at some points to awkward and ponderous at others. Not to dwell on the negatives, though, I will end by saying that on the whole it was an enjoyable read. McIntee wisely refrains from going far beyond believability into Hong Kong movie territory; the fights in the novel are realistic. His major characters are not stereotypes or purely stock melodrama, but have genuinely human reactions.
| | | |
| --- | --- | --- |
| | | |
| | Everybody was Kung-Fu Fighting | |
| | | |
By:
Chris Arnold, Bundaberg, Australia
Date:
Sunday 7 October 2012
Rating:
7
I approached this book with some trepidation, as the author's previous output which I have read gave me mixed feelings. I loved Mission Impractical but Lords of the Storm was amazingly tedious. I have to say that with The Eleventh Tiger I was pleasantly surprised. A great ghost story with strong and interesting characters, and the regulars coming off as believable. A little ham fisted Ian and Barbara love each other stuff aside and the slightly contrived last chapter that almost lapsed back into McIntee's laborious 'space opera' style prose, this is a strong entry for the First Doctor and this novel range. My abiding memory of this novel will be, in true Bruce Lee fashion, the Doctor himself in full Kung-Fu pose. Bring it on!