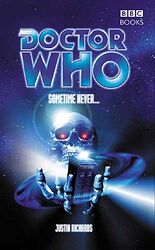 | | | |
| --- | --- | --- |
| | | |
| | Reviews for Sometime Never... | |
| | | |
There are 5 reviews so far. To add a review of your own for this item, visit the voting page.
By:
John Ellison, Atlanta, USA
Date:
Wednesday 17 March 2004
Rating:
9
Hmmm...I find myself puzzled. I think this is possibly one of the best novels in the last year or so that the series has offered. Sure, the ending was not what I wanted and I was saddened by the "resolution" of several loose ends I had grown rather fond of over time. Still, I give the overall tension, effect and pace of the book outstanding marks. Plus it mentions elements of the Doctor's past! Just to see an author acknowledge that Sam once travelled with the Doctor (or Harry or Jo or Sarah Jane for that matter)...what a forgotten treat!

Read it and draw your own conclusions.

Who knows, perhaps someday soon we will be treated to a novel that truly goes outside the norm. It could start with a quote from the Doctor, "I remeber everthing..." Now that would be an interesting read.
Now this is what I call Dr. Who!! This was an awesome book and majorly ties upstory lines as well as preserves continuity in unimaginable ways. When I first heard Sabbath was back, I was worried but Justin Richards does an awesome job of piecing everything together. Keep it up guys!!!
By:
Joe Ford, Eastbourne
Date:
Tuesday 7 September 2004
Rating:
10
This was a superb climax to the Eighth Doctor's adventures, taking plots that have been built way back since The Ancestor Cell and rolling them all into a non stop thrill ride, a story packed full of memorable incident and a bloody good enemy for the Doctor to fight. Justin Richards writes with his trademark skill and the story is one brilliant twist after another.
| | | |
| --- | --- | --- |
| | | |
| | Grossly over-rated - SPOILERS | |
| | | |
By:
Phil Ince, Highbury, London
Date:
Wednesday 8 September 2004
Rating:
4
This is the 2nd book by Justin Richards that I've read, the other being The Burning. Now Justin is likely a very nice chap and good to his mother but ... whilst the two books are significant because they begin and conclude (different) strands in the 8th Doctor saga, neither has very much merit in itself. Sometime Never is substantially a colossally short-winded runaround, mostly in fact a steparound; a turgid, lifeless, po-faced dance to the mumbles of a 3rd rate baroque composer.

On the evidence of The Burning, Richards isn't in the least concerned with plausibility, embarassed by utility of the obvious, troubled by repetitiousness or capable of creating characters who breath.

There's a micro-episodic opening of crew being dropped in environments yielding one of the great terrible sequences in all Who literature when Trix winds up at a medieval royal banquet. Fitz is left to gatecrash a party which bares poor comparison with the 8Ds efforts in the TVM and what follows - and it may be as much as 100 pages; it certainly feels like it - is a chase which runs at the pace of chilled treacle. Random death occurs (notably a pointless loss for the Doctor which is then ignored; painfully painlessly written) and little else before a notably unimaginative conclusion of hour glasses containing the life essences of the protagonists (yes, you read that right) and Sabbath's final, heroic appearance. It's the kind of stunted, stilted, tepid turn-off of a book that discourages me from reading 8DAs for quite some time after.
I really, really, enjoyed this book. While I don't believe that it is a perfect 10 I voted that why to increase the overall score. It deserves more then a 4.5. I would easily give it a 9 or at least an 8.
I thought it was a good finalle to the series of books that comprised this storyline. I will miss Sabbath. I hope they can find a way to bring him back to work with the Doctor as an allie and equal.