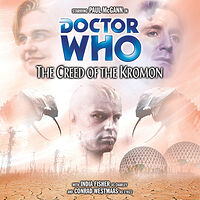 | | | |
| --- | --- | --- |
| | | |
| | Reviews for The Creed of the Kromon | |
| | | |
There are 6 reviews so far. To add a review of your own for this item, visit the voting page.
By:
Phil Ince, Highbury
Date:
Saturday 21 February 2004
Rating:
3
Another poor entry in the consistently weak 8th Doctor series.

Philip Martin seems to have written with the 6th Doctor and Peri in mind; he of his weakest TVs and she at her glibbest. The lines for Charlie are just completely wrong; throwaway wisecracks of a very feeble sort.

The unsurprisingly half-hearted and unconvinced performances (a disappointing 1st for them) of Fisher and McGann underline the poverty of the writing.

The failure is partly tied to the comedy elements which simply make the Kromon look stupid. Perhaps they are. But comedy villains need to rise above this bleak level of wit to be either funny or threatening and, without that, I'm left twiddling my thumbs for the thing to finish.

The pale humour; the interminable gun-toting in part 2 where a pair of defenceless people in the heart of an alien stronghold can hit and disable the villains with mud but these villains can't shoot a single blast that hits its target; the conviction of the Kromon that their drug will subsume prisoners' personalities and link them to the Kromon - yet the strapping of C'rizz to a wheel as a demonstration to the slaves; if the drug does what they believe, why do the slaves need to be taught a lesson?; the Doctor constructing a bomb instead of a TARDIS and then simply walking away before it goes off. Conversely, if the Kromon have cause to be suspicious of the effect of their drug, it seems unlikely that their greatest minds and most senior figures would all gather in one room and let the Doctor excuse himself just before his device's activation; these misjudgements and irrationalities constitute a form of insult to the audience simply by being so slipshod.

The play's remnants consist of an endless-seeming set of events which go nowhere.


A great world is formed in your head, with good creatures and use of sound. However this soon falls a little flat with charley and the doctors constant glib comments.

The story could have been a good solid, traditional feast for Doctor Who, but as normal was left flat with weak charaters and rampling story line.

The introduction of a new charater C'Rizz should have been punchy and thrilling, rather than weak and rambling.


By:
tony, balitmore, USA
Date:
Wednesday 31 March 2004
Rating:
4
So far what I've heard of the new eight doctor adventures have been pretty good to lame like this. Nothing like McGann's prior season. They are starting to repeat ideas from the books, which started out great and then...well, I had to stop reading them since they were boring. I hope this doesn't happen with the CDs. Here's hoping the TV show will be good.
| | | |
| --- | --- | --- |
| | | |
| | Not as bad as all that... | |
| | | |
By:
Matthew David Rabjohns, Bridgend, United Kingdom
Date:
Tuesday 26 October 2010
Rating:
6
The Paul McGann era on big finish audio, up until Terror Firma, possibly yes was a very weak story block overall. Only a few tales from this time actually would I call brilliant, such as The Chimes of Midnight, The Last, and Sword of Orion. Here is a tale that isnt too bad, but is let down by a seriously mixed up ending.

What begins with an excellent sequence of the Kroka taunting the Doc and Charley soon begins to dissolve into a very run of the mill story, especially at the climax. One cant see how this ending didnt get changed. Usually Phil's scripts are excellent, but after a fine first ten minutes it all goes stale very quickly. The Kromon may be an OK monster for audio, the voices well realised. And the scene of C'rizz killing his love is sad, but aside from this this is still a bit of a letdown....

Only Paul McGann really saves this one. He always has been a good doctor, its just sad that up til a certain point his story arc was overall the worst produced by big finish. Gladly, it improves a lot onward from The Next Life....
By:
Jake Johnson, America
Date:
Monday 6 December 2010
Rating:
8
Creed of the Kromon is an action story, involving a lot of moving about and tension. This story could easily have been pulled off on television, and the story does surprisingly well without the visual aspect. Although the ending isn't as climactic as one might hope, it introduces some fun new characters and pits them against an evil force.
The only thing keeping this at an 8 is the fact that it doesn't do too much with the Divergent Universe arc. It certainly moves it along a couple inches, but this story could easily have been set on Mars or Skaro.
By:
David Layton, Los Angeles, United States
Date:
Friday 20 March 2020
Rating:
7
Doctor 8 and Charley have their first true adventure inside the crucible world. Apparently, it is sectioned off in "zones," each of which is a world in itself. In this story they meet the Kro'ka, a rather flippant overseer who manages each "experiment" that The Doctor and Charley are in. The story also sets several themes that are going to play out through the rest of this series, all of which were announced in a way in the previous story, "Scherzo." One of these is evolution from formation of an early universe to decay and entropy at the end. Thus, the star villains of this episode are the insects, the Kromon, giant intelligent termites that have absorbed the "creed" of The Company, a mysterious and long gone master race. The Kromon have taken on the business model as a total plan for social organization, which is a kind of joke against business. With their world destroyed by The Company, the Kromon move on to other worlds in search of water, which they desperately need plenty of to survive. Their plan is to suck each world dry before moving on. It is infestation on a grand scale. All of this is quite interesting conceptually. It could have worked superbly. However, Philip Martin has taken many narrative shortcuts, with a plot that mostly follows the in-trouble-out-of-trouble-repeat pattern. There are some inconsistencies between elements of the plot and elements of the setting. In summary, interesting in concept, flawed in execution.