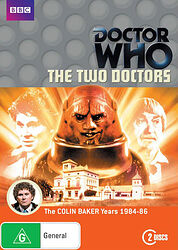 | | | |
| --- | --- | --- |
| | | |
| | Reviews for The Two Doctors | |
| | | |
There are 5 reviews so far. To add a review of your own for this item, visit the voting page.
By:
Whites, southend, england
Date:
Monday 8 May 2006
Rating:
7
Really good, for about 20 minutes... bless em though. nice outfit Peri!
| | | |
| --- | --- | --- |
| | | |
| | Silly fun and and androgum! | |
| | | |
By:
Darian, USA
Date:
Sunday 11 March 2007
Rating:
10
This is not the best-ever episode of Doctor Who! Yet it does manage to be many of the things which make this series so memorable. Featuring Patrick Troughton, making a rare appearance in color, and Colin Baker, who was the then-current doctor. Toss in two of the doctor's companions (Jamie and Peri) along with a space station, sudden death, beautiful ladies, the menace of the Sontarans, and the well-played Shockeye the Androgum with his unending quest to taste the flesh of one of those delicious human beasts!
Seeing the Doctor transformed into an androgum, with voracious appetite and bushy orange eyebrows is not to be missed! Silly fun, yes, but still a favorite: not every episode has to be all grim and serious. Enjoy.
| | | |
| --- | --- | --- |
| | | |
| | Disappointingly average... | |
| | | |
By:
Huw Davies, Taunton, United Kingdom
Date:
Thursday 2 October 2008
Rating:
6
I would have given this 6.5, but I gave it 6 as it doesn't deserve a 7.
This story is pretty bad, really. The Sontarans look terrible, as do Dastari, Shockeye and Chessene. The Robert Holmes story is good on paper, but raises continuty questions, especially about the 2nd Doctor and Jamie, and the Spanish location filming seems to have been a mild gimmick.
By:
Jay Y, Delaware, USA
Date:
Monday 30 November 2009
Rating:
7
Not really the greatest story, but I have to give it props for seeing the second and sixth Doctor together, the beautiful Spanish scenery, the wonderfully over-the-top Shockeye, and the great extras. The only thing I missed was a true behind the scenes involving cast reminisces about the story. However, the Adventures in Time and Spain minidoc with Gary Downie was hilarious! I'd like to see more of him.
| | | |
| --- | --- | --- |
| | | |
| | SILLY, UNEQUIVICAL FUN... | |
| | | |
By:
Matthew David Rabjohns, Bridgend, United Kingdom
Date:
Thursday 9 September 2010
Rating:
10
"Why dont you resign Styke? Take a pension..."

"Oh my giddy aunt oh crumbs"

"Tea time already nurse?"

"Your Doctor is an anti deluvian foegey!"

"Most of them must have leaked out of your ears, or you wouldnt be involved in this madness!"

"How is it you can be such a stubborn irrational and thoroughly objectionable old idiot?!"

"Of course I can walk!"

"Then we can cook her"

"Take the one in the skirt"

With so many beutifully comedic lines such as this, does it matter if the story isnt in keeping with past elements of Doctor Who.

Pat Trouhgton delivers what I think is his best ever Doctor Who performance. He is so utterly brilliant that he does steal most of the show somewhat.

Give Clinton and Tim their due too, they are brilliant sontarans, especially in the stifling heat of Spain. They manage to rise above the ill fitting costumes and deliver with their voices excellently.

John Stratton is memorable as that psycho Shockeye too. Dastari is likeable, despite all his nasty experiments. So you do feel for him at the end when he is killed. Laurence Payne is an excellent actor.

Yes, for me this story may not be high on continuity, but it is very high on entertainment. Anyway, frequently Doctor Who is all over the place with its continuity anyway. So thats nothing to worry about.

And Frazer is back in full force as my favourite companion ever. And he works just as well beside Colin Baker as with Pat Troughton. And the two doctors here work together so brilliantly. You can see everyone had a good time making this story. It comes out in the performances. Pure Doctor Who brilliance.