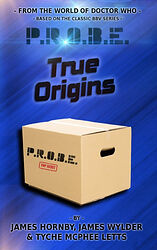 Description: A spin-off short story collection based on the P.R.O.B.E series of straight-to-video dramas. Follow-up to P.R.O.B.E: Out of the Shadows.
Cover blurb:
Before P.R.O.B.E. stepped Out of the Shadows, it defended Earth from strange and unnatural threats for decades. But what happened after the departure of its founding director?
Enter Giles.
Inexperienced and unequipped to fight the darkness on his own, he has no choice but to recruit new blood if his organisation is to survive.
In eight tales from the pens of James Hornby, James Wylder and Tyche McPhee Letts, follow the journey of P.R.O.B.E. as they rise to meet the challenges of a new century.