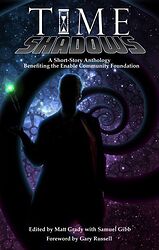 Edition:
Canada (1st paperback)
Released:
June 2016

Publisher:
Pseudoscope Publishing
ISBN:
None
Format:
paperback
Owned:
Buy:
Cover blurb:
UNOFFICIAL. UNAUTHORIZED.
All proceeds from this anthology benefit the Enable Community Foundation.

Tipped off by a mysterious raven-man, the Twelfth Doctor and Clara travel to Refuge, home of the last vestiges of life near the end of the universe. There, they discover an ancient, powerful Time Lord relic. No sooner does it activate, than new thoughts, new memories form in the Doctor's mind: new adventures of all his past selves.
Someone or something is tampering with time, changing the destination of the TARDIS, and altering the Doctor's past. He and Clara must travel into danger, into darkness to set things right.
Featuring stories by Violet Addison, John Anderson, David Black, Andrew Blair, Simon Blake, Christopher Colley, John Davies, Abel Diaz, R.P. Fox, Stephen Hatcher, Chris Heffernan, Ian Howden, Pete Kempshall, J.R. Loflin, Kevin Mason, Roger McCoy, David McLain, Christopher Olsen, John Peel, Stuart Roth, Dale Smith, David N. Smith, and Nick Walters.