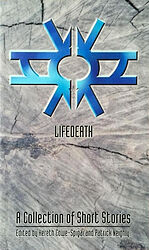 Note: A fan-compiled collection of short stories in aid of Amnesty International, limited to 500 copies.
Cover blurb:
For over a thousand years, he's fought to hold back death.
But some problems can't be fought on the scale he's used to. Doctor Who: LifeDeath is a collection of short stories that presents new problems for the Doctor — the murkiness of cultural relativism, the ethics of voluntary oppression and the fundamental essence of his own inhumanity.
Inside these pages, the Doctor encounters the man who killed him, discovers the positive side of terrorism and learns the difference between fighting a tyrant and fighting a culture, while elsewhere, one of his incarnations is confronted with an unexpected question: Is the suicide of a Time Lord also murder? Meanwhile, the avatar of the Time Lords gazes into the abyss and finds a mirror entity, a former companion faces cosmic ennui and two schoolteachers from Coal Hill suffer the terrifying ordeal of abduction by a psychopath.
With previously unpublished fiction by David Agnew, Peter Anghelides & Stephen Cole, Simon Bucher-Jones, Paul Cornell, Craig Hinton, Phil Pascoe, Keith Topping and a host of undiscovered talent. Foreword by Kate Orman.
Doctor Who: LifeDeath is a fan-based charity project. All proceeds from the sale of this book benefit Amnesty International.
Contents:
My Brother and the Doctor by Ben Brown
At the Beach by Simon Bucher-Jones
Something Terribly Important by Evan Eaters
An Act of Terrorism by William Billingsley
Hayat by Doris Speed-Keller
Raisin Jack and the Dead Gang by Chris Heffernan
The Unpublished Diaries of Ian Chesterton by Patrick Neighly
Act of Kindness by Alex Steer
Interlude by Peter Anghelides and Stephen Cole
Who Tortures the Torturers? by James Enright
Meeting of Minds by Craig Hinton
Liberation by Kereth Cowe-Spigai
Key to the Future by Mark Phippen
Seasons of Fear by Paul Cornell
Grandmother Clause by Phil Pascoe
Going Nowhere by David Agnew
Skullduggery by Keith Topping and Suzanne M. Campagna