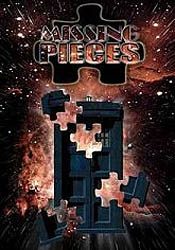 Cover blurb:
An anthology to benefit the Downs' Syndrome Association and the Foundation for the Study of Infant Death
"Love may be only a story, but stories are the greatest things in the world."
From the dawn of time to the end of everything, the Doctor has fought against evil, challenged the darkness, righted wrongs and saved the occasional planet from disaster. And now, together with his faithful companions and his trusty TARDIS, the mysterious Time Lord from Gallifrey ventures forth on an all-new campaign for truth, freedom and a hot cup of tea, in this landmark charity collection featuring contributions from four actors from the long-running series, over thirty professionally-published writers, sixty prominent fan writers and a plethora of talented artists.
Join the First Doctor as he witnesses the Charge of the Light Brigade; the Seventh Doctor as he faces intrigue in ancient Antioch and injustice in Nazi-era Poland; and the Sixth Doctor's adventures in shopping malls. Be witness to the Fourth Doctor's battles against a murderous fury in modern London and a savage gangster war in 1950's Las Vegas. The Third Doctor's love/hate relationship with a clever white witch, and his perpetual game of chess with an old foe. The Second Doctor's encounters with Hollywood legends and time traveling filmmakers. The Fifth Doctor's adventures in a Florida retreat. The Eighth Doctor's sabbatical in the fine arts with Leonardo da Vinci. And the personal demons the wandering Time Lord faced before he left Gallifrey — before the mythos began....
The adventures span the universe: The Master's fiendish plot against a people in Paradise. The daring quest of the rogue Tharil Time Lord, Romana. Anji Kapoor's near-miss with the Sixth Doctor. The horrific truth behind the transformation of Kamelion. The apocryphal adventures of the young handmaiden Katarina. Benny Summerfield and her forgotten loves. A very peculiar visit with Iris Wildthyme. Nyssa's brush with showbusiness. Sara Kingdom's last great adventure. The timeless relationship between Samantha Jones and the soulmate she left behind. A game of golf with the mysterious Dominie and Alice, the Doctor and Ace's enigmatic shadows. The conundrum of the savage Leela, lost among the spires of New York City. The secret life of the Whifferdill shapeshifer, Frobisher. The ancient rage that strikes against the TARDIS itself.
Stories of intrigue, drama, action, suspense, and even a romance or two... all in a book featuring all eight television Doctors and nearly every companion from the television series, the novels and the audio plays.
Edited by Mark Phippen & Shaun Lyon
Introduction by Peter Davison • Afterword by Sylvester McCoy
Original Fiction by Colin Baker and Wendy Padbury
With fiction, prose and illustration by
James Ambuehl, Jon Andersen, R.J. Anderson, Peter Anghelides, Trevor Baxendale, Tom Beck, Allan Bednar, Jeremy Bement, David Bickley, Arnold T. Blumberg, Jonathan Blum, Daniel Blythe, Erin & James Bow, Colin Brake, Simon Bucher-Jones, Nick Campbell, Jim Catapano, Damon Cavalchini, Stephen Cole, Lisa Conner, Sue Cowley, Dylan Crawfoot, Charles Daniels, Martin Day, Keith R.A. DeCandido, Patrick Degan, Jonathan W. Dennis, John S. Drew, Julian Eales, Zoe Ellis, Steve Emmerson, Simon Exton, Helen Fayle, Mike Fichera, Matt Fitton, Joshua Lou Friedman, Simon John Gerard, Greg Gick, Sietel Singh Gill, Matt Grady, Sarah Hadley, Mags L. Halliday, Paul Harrison-Davies, Bret Herholz, Clayton Hickman, Craig Hinton, David J. Howe, Olivia James, Christopher A. Jones, Lorelei S. Jordan, Tim Keable, Alryssa Kelly, Thomas Kelly, Daniel Kukwa, Paul Leonard, Shaun Lyon, Steve Lyons, Paul Magrs, Matt Marshall, Greg McElhatton, Bradley McGrath, David A. McIntee, Ian McIntire, Mark Michalowski, James Middleditch, Jon De Burgh Miller, Mansoor Mir, Jonathan Morris, Mike Morris, Wendy Muir, Lance Parkin, Lars Pearson, John Peel, Peter Petroff, Mark Phippen, Jon Pinto, Ron Plath, James Potter, Graeme Neil Reid, Gary Russell, Mary Ellen Sandahl, Jim Sangster, Cavan Scott, Peter Shaw, Rob Shearman, Trina Short, Nathan Skreslet, Dale Smith, Gregg Smith, Robert Smith?, Alex Steer, Deborah Stevens, Dave Stone, Kathy Sullivan, Chris Sutor, Alan Taylor, Witold Tietze, Jennifer Tifft, Susannah Tiller, Keith Topping, Mike Tucker, Angela P. Wade, Nick Walters and Mark Wright.
This is an unofficial collection, privately printed, and distributed by the editors in return for donations (in equivalent amounts) to the Foundation for the Study of Infant Death and the Down's Syndrome Association.