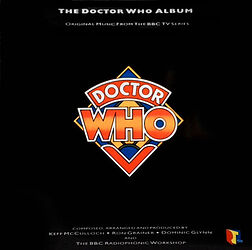 Edition:
Germany (LP)
Title:
The Doctor Who Album
Released:
December 1988 (Exact date unconfirmed)

Publisher:
Edelton
Format:
1 x LP
Owned:
Buy:
Note: Catalog number: EDL 2517-1. Yes, even though this is a German release, the blurb on the back from John Nathan-Turner is printed in English (as is the track listing)
Cover blurb:
Incidental Music is a vital ingredient in the product that is Doctor Who. If successful, it enhances the visual image. It can dramatise a visually innocent scene and conversely it can soften the overall horrific impression of a scene that perhaps needs careful consideration to avoid offence.
It is fitting therefore that in Doctor Who's 25th Anniversary season there should be an album of some of the programme's incidental music. I am delighted that Keff McCulloch — certainly one of the most talented composer/musician/producers to have worked on Doctor Who over the years has compiled the selection of 'gems' which demonstrates the valued contribution of his music. Who can forget, for example, the haunting child-like theme of the dangerous young girl in 'Remembrance of the Daleks'? Certainly not me!
Having launched Keff's TV career on a world-wide public, I shall be watching his future with interest and prode. His talent is, like the Daleks, a force to be reckoned with.
JOHN NATHAN-TURNER
Producer
DOCTOR WHO
Track listing:
Same as UK cassette/LP editions.