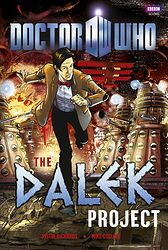 Note: Was later republished as a 2-in-1 volume along with fellow 11th Doctor graphic novel The Only Good Dalek. Originally scheduled for release in autumn 2009 as a Tenth Doctor graphic novel (View unused cover), this was delayed by 3 years for reasons unknown — though the prevailing theory is that the delay was caused by the "Daleks during wartime" setting being too similar to 2010's TV episode Victory of the Daleks, hence the BBC production office requested the delay. In the meantime, the artwork was reworked to feature the Eleventh Doctor instead of the Tenth. (Whether any other changes were made to the storyline is unknown.)
Cover blurb:
'Our invention will change the nature of warfare. It will make this conflict truly the war to end all wars. Gentlemen, our factory in France is ready to start mass production of these remote-controlled armoured vehicles.
The war machine we call...
the Dalek.'
Inner cover flaps read as follows:
A stunning new graphic novel, featuring the Doctor as played by Matt Smith in an exciting adventure with the Daleks.
1917. It's the height of the Great War and Hellcombe Hall is a house full of mystery: locked doors, forbidden rooms, dustsheets covering guilty secrets, and ghostly noises frightening the servants. Most mysterious of all, the drawing room seems to open directly onto a muddy, corpse-filled trench on the Western Front...
Arriving at this stately home, the Doctor meets Lord Hellcombe, an armaments manufacturer who has a new secret weapon he believes will win the war: he calls it 'the Dalek'. Soon, the Doctor and his new friends are in a race against time to prevent the entire Western Front from becoming part of...
The Dalek Project

JUSTIN RICHARDS is creative consultant for the BBC's Doctor Who books, and has written a fair few of them himself. As well as writing for stage, screen and audio, he is also the author of a series of novels for children. Justin lives in Warwick, with his wife, two children and a nice view of the castle.
MIKE COLLINS is an illustrator who has worked in books, comics, film and TV for over twenty years for the UK, USA and Europe. He has drawn comics based on many TV and film properties: Star Trek, Babylon 5 and The Time Machine amongst others. He's also the author/designer on the first Welsh language graphic novel, Mabinogi, based on the animated film. Best known for illustrating Doctor Who Magazine's long running comic strip, he also draws a series of graphic novels based on Norway's most famous private detective, Varg Veum. His adaptation of A Christmas Carol for Classical Comics was picked by The Times as one of their choices for Top Graphic Novel for Christmas 2008.