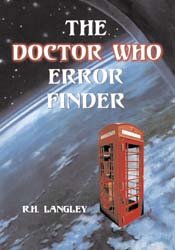 Description: Much like The Doctor Who Bloopers List on this very website, this book is an exhaustive listing of on-screen mistakes, plot holes and production errors in the classic series (and indeed the author used The Doctor Who Bloopers List as one of the sources for the book).
Cover blurb:
In its long television run, the science fiction serial Dr. Who featured noticeable errors. Producers could not, of course, afford to reshoot. Today, spotting and discussing those bloopers has become a favorite pastime for fans. When was the First Doctor on a "slight exploitation"? What does the Second Doctor call the sectional supply unit? When does the Third Doctor mistake a silicate rod for a silicon rod? What is hanging from the Fourth Doctor's nose when he is in a cell on Traken? How does the Fifth Doctor accomplish his disappearing hat trick? Where does the Sixth Doctor believe Peri's heart and liver are located? What does the Seventh Doctor do when Ray asks what he is doing? Why does the Eighth Doctor not know the difference between twelve and thirteen?
This work is the largest existing collection of transmitted errors appearing in Doctor Who — microphones or equipment visible in a shot, obvious strings, anachronisms, unsteady sets, actors having trouble walking — from every episode of the original television series and also the movies and the spin-offs. Presenting more than 4000 errors (many previously unrecorded) and about 1500 other items of interest, the work also corrects errors in other lists and even refutes well-established blooper claims.
Information on each story begins with the official BBC code and title, alternate titles, writers and directors, media examined in creating this list, running times, highlights, and questions to keep in mind. For each episode, the work gives the date of first transmission and a list of errors and other notable moments, each with its approximate elapsed time within the episode.
R.H. Langley is a professor of chemistry at Stephen F. Austin State University. He lives in Nacogdoches, Texas.