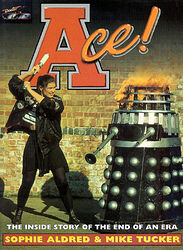 Cover blurb:
Doctor Who became a British institution almost from the first episode, broadcast in 1963. It went on to become the country's longest-running science fiction TV series. There were seven different Doctors; scores of actors played the Doctors' companions.
Doctor Who had its ups and downs, but the late 1980s — the tenure of Sylvester McCoy as the seventh and last Doctor (so far) — saw the series flower creatively even as the audience figures continued gently to decline. There was a new Doctor; a new script editor; new writers with big new ideas.
There were new techniques in special effects — and Mike Tucker was part of the visual effects team on the series from 1985.
And in 1987 the final TV companion arrived: Sophie Aldred played the rebellious, moody, streetwise and lionhearted teenager Ace, who rapidly became one of the all-time favourite Doctor's companions among the legions of fans.
Mike and Sophie have collaborated to produce the ultimate insiders' guide to the last great era of Doctor Who, packed with hundreds of never-before-seen photographs from their private collections.
Inside dustjacket flaps read as follows:
Written by two of those most closely involved with the last era of Doctor Who, Ace! provides a unique, story-by-story insight into the making of this much-loved television programme.
The book contains reminiscences from both behind and in front of the camera including revealing interviews with Sylvester McCoy, John Nathan-Turner, Andrew Cartmel and many others involved in the writing and production of the programme. It features over three hundred never-before-seen photographs from the private collections of the two authors. And it shows for the first time the original sketches for many of the show's special effects and costumes — as well as those for some which never made it to the screen.
Sophie Aldred was born in Blackheath longer ago than you might think and has remained desperately middle-class ever since. A brief respite pretending to be a drop-out at Manchester University where she studied drama left her even more determined (sadly for her father) to be an actress. A few years spent in draughty lodgings and dodgy vans doing children's theatre didn't deter her and in 1987 she rose to notoriety as Ace in Doctor Who.
Mike Tucker was born in South Wales and spent many of his formative years experimenting with Super 8 cameras, Action Men and fireworks. After seeing Bernard Wilkie on an edition of Pebble Mill at One, Mike realised that there was a job which could channel this peculiar hobby. Eventually, after three years at Croydon College, in even draughtier lodgings than Sophie, he joined the BBC Special Effects Department.
This book is the result of Sophie and Mike's auspicious meeting in the freezer centre on Iceworld. Having discussed writing a book about their experiences (or at least those connected with Doctor Who) at every subsequent wrap party, they've finally got around to it five years after the programme has stopped being made.