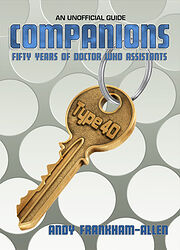 Cover blurb:
No one likes to travel alone, not even Time Lords.
For fifty years the Doctor has been traversing the universe, affecting the lives of everyone he meets.
From the crotchety old man who wanted a simple life of exploration, to the raggedy man who craves adventure, the Doctor has been changed. But who changed him? What turned him from the aloof traveller to the man of action?
This is the story of the thirty-five friends who have changed him into the man he is today.
From the Doctor's unearthy grandchild through to the mysterious nanny, this book takes a detailed look at every companion that has travelled with the Doctor for the last fifty years.
Includes a look at some of the most interesting companions of the Expanded Universe of Doctor Who in prose, audio and comics.
The Doctor says he only takes the best — but does he? Step inside for an adventure in space and time to find out.

WITH A FOREWORD BY GARY RUSSELL
AND AFTERWORD BY DAVID J HOWE