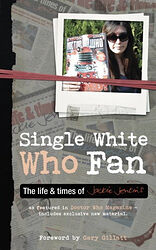 Edition:
UK (1st paperback)
Released:
July 2011

Publisher:
Hirst Publishing
ISBN:
978-0-9566417-5-5
Format:
paperback
Owned:
Buy:
Cover blurb:
'The Life and Times of Jackie Jenkins', as featured in DWM (1997 - 1999), plus exclusive new material.
Doctor Who Magazine's flirty female diarist is back! Jackie Jenkins: cool, sexy and a little bit naughty. Jackie is a girl who views the world through TARDIS-shaped windows. She loves Doctor Who. She's sassy and holds down a busy PR job, but her real thoughts swim with string-vested sea monsters and silly ideas about who her antiquated Tom Baker doll really looks like (she's long plumped for Starsky and Hutch's Paul Michael Glaser but recently spotted flashes of Michael Sheen). To Jackie, colours come in 'Police Box Blue' or 'Time Warrior Green', a reference to the gorgeous shade of Pertwee's velvet jacket. She loves parties, vodka and belting out Bonnie Tyler numbers. She's never settled the question — Which is better — 'Inferno' or 'Ambassadors of Death'? or why the only man she's ever fallen for seems to have all the dark-hearted qualities of the Doctor's own arch enemy The Master.
Now the fan-girl with attitude returns to present the best of her popular, funny Doctor Who Magazine column, which began its three-year run in 1997. Re-live the old and enjoy the new as Jackie updates her story with some brand new material. From pub nights out to TV nights in, incompetent friends to entangled relationships, follow Jackie and co as they ponder life, love and the Doctor, and address pressing issues such as "If the Doctors were Spice Girls, which ones would they be?"