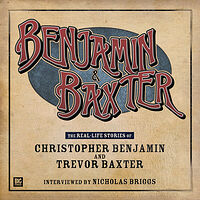 Note: Interview with the stars of Doctor Who audio spinoff Jago & Litefoot.
Cover blurb:
To fans of Doctor Who they will always be Jago and Litefoot, the Victorian investigators from the classic TV story The Talons Of Weng-Chiang.
But Christopher Benjamin and Trevor Baxter's careers have spanned stage and screen over decades, against which British society and the entertainment industry has changed greatly.
This is their story — through war and peace, through theatre, TV and film... to a sound studio in Central London, where the adored Jago and Litefoot have a new lease of life on audio.
INTERVIEWED BY NICHOLAS BRIGGS