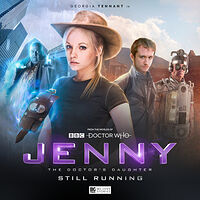 Description: Box set of original audio dramas featuring Jenny, the titular character in the 2008 Doctor Who TV episode The Doctor's Daughter. Sequel to Jenny: The Doctor's Daughter.
Cover blurb:
Jenny was made as a soldier but has a Time Lord's heritage — and that Time Lord is the Doctor. Exploring the universe, Jenny found a friend — Noah, a mystery boy from nowhere.
Together they're ready to save planets, fight monsters, and save the day with nothing but wit and instinct — and an awful lot of running.

INSIDE THE MALDOVARIUM BY ADRIAN POYNTON
ALTERED STATUS BY CHRISTIAN BRASSINGTON AND MATT FITTON
CALAMITY JENNY BY JOHN DORNEY
HER OWN WORST ENEMY BY LISA McMULLIN