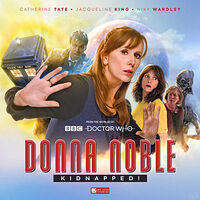 Cover blurb:
Donna Noble has come home. But she's about to be whisked away by aliens — and they're not as friendly as the Doctor! After the trauma of the Library, Donna wants a break, to see old friends and family, to remind herself of normality.
Only Donna's new normal involves trips through space and time and visiting alien worlds. So when she and BFF Nat start looking into strange abductions, they are dragged into a whole new universe of trouble...
OUT OF THIS WORLD BY JACQUELINE RAYNER
As schoolgirl BFFs Donna and Natalie get reacquainted, a mysterious stranger dogs their steps. Is the Doctor keeping tabs on her, or is the truth far more sinister?
SPINVASION BY JOHN DORNEY
Donna and Nat have been stolen — along with the TARDIS — and they find themselves crash-landing on an alien world.
THE SORCEROR OF ALBION BY JAMES GOSS
Trying to get home, Donna and Nat end up in the right place at the wrong time — the Middle Ages!
THE CHISWICK CUCKOOS BY MATT FITTON
Donna's home, but an alien plot is nearing completion, and the world needs saving. The Doctor is nowhere to be found, so it's all up to Donna — and Nat!