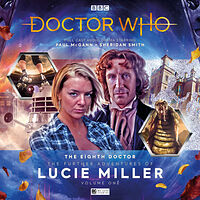 Cover blurb:
FOUR NEW ADVENTURES FEATURING THE EIGHTH DOCTOR AND LUCIE MILLER
"It's a funny thing, livin' a 'life or death' life. Fightin' monsters. Seein' alien planets and spaceships and stuff. Thinkin' about it... it's sort of addictive."
It's been several months since Lucie Miller, Blackpool's mouthiest, landed up travelling through space and time in the company of the Doctor, the last living person to believe that frock coats are acceptable apparel.
They've met Daleks on Red Rocket Rising, Cybermen on the planet Lonsis and alien monsters eating glam rockers at a service station just off the M62. But their greatest adventures are yet to come...
THE DALEK TRAP BY NICHOLAS BRIGGS
THE REVOLUTION GAME BY ALICE CAVENDER
THE HOUSE ON THE EDGE OF CHAOS BY EDDIE ROBSON
ISLAND OF THE FENDAHL BY ALAN BARNES