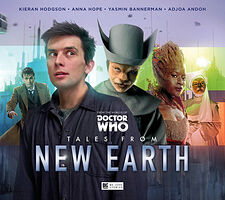 Note: Four adventures from the New Earth setting of the TV episodes The End of the World, New Earth and Gridlock.
Cover blurb:
FIVE BILLION YEARS IN THE FUTURE...
After the end of the world in the year 5.5/apple/26: New Earth is the second hope of humankind. Post-Gridlock, Senator Hame is working to restore her home. The cities, forests and skies teem with strange and wonderful species.
Some trace their ancestry back to Old Earth, others came later, but all have their own agendas, and their rivalries.
Now an ancient, powerful force has New Earth in its sights, and everyone must work together to beat it...
ESCAPE FROM NEW NEW YORK by ROY GILL
DEATH IN THE NEW FOREST by ROLAND MOORE
THE SKIES OF NEW EARTH by PAUL MORRIS
THE CATS OF NEW CAIRO by MATT FITTON