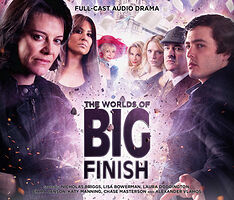 Note: Similar to The Worlds of Doctor Who, this audio drama box set brings together several Doctor Who spin-off characters, including Bernice Summerfield, Iris Wildthyme, Abby and Zara from Graceless, and Vienna Salvatori from the Vienna audios.
Cover blurb:
From the streets of Edwardian London to the corridors of a near-infinite library in the distant future, a single book holds the key to the fate of life on Earth.
Some believe it predicts our future — and the apocalypse — with unnerving accuracy. Others will stop at nothing to destroy it, and will chase it from one side of the universe to the other; from a country house in the Roaring Twenties to the casinos of Mars, and from 221B Baker Street to the terrifying desert world of Sisyphus IX...
Featuring Abby and Zara, Sherlock Holmes, Dorian Gray, Iris Wildthyme, Vienna Salvatori and Bernice Summerfield, The Worlds of Big Finish brings together some of Big Finish's best-loved characters in an adventure spanning thousands of years!
This release includes a fourth bonus disc — Round the Worlds — where director Scott Handcock leads a roundtable discussion with writer and cast about this special adventure, plus a selection of outtakes from recording.